On Breonna Taylor's 27th Birthday, People Are Amplifying Their Demands For Justice
Activists, lawmakers, and public figures are demanding more actions be carried out to bring Taylor justice. She died in March at the hands of police.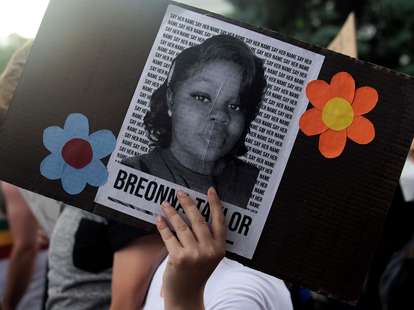 Getty Images/A demonstrator holds a sign with the image of Breonna Taylor
On Friday, June 5, Breonna Taylor would have turned 27 years old. The licensed EMT was shot and killed in her own home in March after three officers in Louisville, KY forced their way inside with a search warrant in a drug investigation.
The Louisville Metro Police Department claimed in March that the plainclothes officers, none of whom were wearing body cameras, announced themselves before entering the apartment (Taylor's family has disputed this claim). They then returned gunfire when Taylor's boyfriend, Kenneth Walker, shot at them.
According to a warrant for the raid obtained by local news outlet WAVE, authorities suspected a man involved in a drug ring was receiving packages of drugs at Taylor's home. According to a New York Times report, the officers said they announced themselves despite having a "no-knock" warrant, which allows them to enter a property without immediate prior notification of the residents.
However, in a wrongful death lawsuit obtained by CBS News, Taylor's mother Tamika Palmer said the officers did not identify themselves, and that Walker, a licensed gun owner, thought that someone was breaking into the home. Once inside, the suit says the officers proceeded to "spray gunfire into the residence with a total disregard for the value of human life," and shot Taylor at least eight times. The suit also says neither Taylor nor Walker have any criminal history of drugs or violence.
As anger has mounted over the deaths of Ahmaud Arbery, George Floyd, and other innocent Black people who were wrongfully killed, Taylor's case has gained renewed attention. The FBI's Louisville Office announced on May 21 that it was opening an investigation into Taylor's death — the same day Louisville Police Chief Steve Conrad announced his retirement (Conrad was fired before his retirement went into effect at the end of June the over the death of Black business owner David McAtee, who was shot by police while at his own restaurant). However, local prosecutors haven't taken action against the three officers involved, who are on administrative leave but have not yet been charged with any crimes, according to local reports.
Taylor's killing has been the subject of several protests over the past few weeks, as demonstrators have taken to the streets nationwide and across the world since last week over the death of Floyd, who died after Minneapolis police officer Derek Chauvin kneeled on his neck and choked him. (Chauvin has been charged with second-degree murder, and the three other officers involved were charged on Wednesday.)
On Taylor's birthday — she would have turned 27 — many activists and lawmakers are demanding for the officers who killed her to be held accountable.