One Person Has Died In A Shooting At A Knoxville High School
While authorities previously said the suspect, a student, shot and wounded the officer, that narrative has changed as of Thursday. A revised report from the Tennessee Bureau of Investigation found "the bullet that struck the KPD officer was not fired from the student's handgun."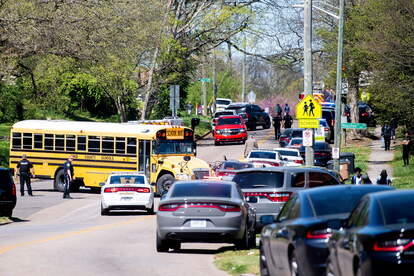 A teenage boy was killed and a police officer was injured during a shooting at a Knoxville high school on Monday afternoon, according to the Tennessee Bureau of Investigation (TBI). There were no other known victims, law enforcement said.
The Knoxville Police Department (KPD) said Monday that multiple agencies responded to a shooting at Austin-East Magnet High School, which is located in East Knoxville. David Rausch, director of TBI, said police received a report that a male suspect who the Associated Press identified as Black was "possibly armed with a gun" at the school.
An officer fired at the suspect, who was then pronounced dead on the scene. One person, a witness, was detained, according to police.
While Rausch previously said the suspect, a student, shot and wounded the officer, that narrative has changed as of Thursday. A revised TBI report found "the bullet that struck the KPD officer was not fired from the student's handgun." The AP also identified the officer as white.
"This is why our agency uses terms in our releases such as 'preliminary,' 'possibly,' and 'reportedly,'" TBI said in a statement. "This update provides clarification to the initial information released on this case."
The names of the shooter, who was a student, and the victims have not yet been publicly identified. The officer who was shot sustained non life-threatening injuries.
Police urged residents to avoid the area as an investigation is still ongoing.
After the school was reportedly on lockdown, Knox County Schools Superintendent Bob Thomas said the building had been secured and that students who were not involved had been released to their families. Police said a reunification site was set up for families.
People using guns have caused at least 11,950 deaths in the U.S. so far this year, including at least 380 children, according to the Gun Violence Archive.
This story has been updated as new information from law enforcement became available.