Online Outrage Targets Government Secrecy After Chinese Doctor's Death
Dr. Li Wenliang was reprimanded for warning other medical professionals about the coronavirus early on and eventually died from the virus himself.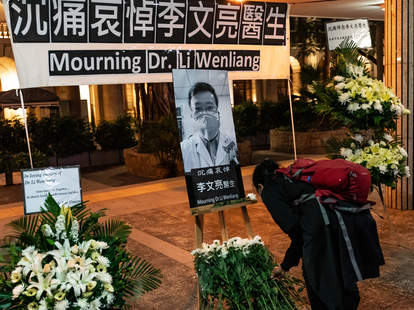 The death of a Chinese doctor who tried to warn other medical professionals about the coronavirus has sparked online outrage.
The hashtag "I want freedom of speech" started trending at 1 a.m. on Thursday morning on the social media app Weibo, right after news broke of Dr. Li Wenliang's death. The hashtag has been used nearly 2 million times and, according to users, has now been censored on Weibo.
Wenliang was reprimanded by Chinese officials for spreading "false information" after he tried to warn other medical professionals in a group chat about the dangers of a then-mysterious coronavirus in December 2019. In the chat, he likened the symptoms of the virus to SARS. On Thursday, a hospital in Wuhan—the epicenter of the virus—announced that the 34-year-old opthamologist died from pneumonia as a result of the coronavirus.
"Li Wenliang, an ophthalmologist at our hospital, had unfortunately been infected when he worked on fighting against the coronavirus outbreak," the hospital said on Weibo.
In a recent New York Times report, Wenliang had said to a Chinese media outlet that the government chose secrecy over containing the virus, which ultimately led to its rapid spread. More than 28,000 people have been infected and at least 564 have died from the coronavirus.
Now—an online revolt has taken over social media in China, with many people calling for more transparency from the communist-led government. Some are criticizing their handling of the now global epidemic that has put millions of people at risk. Wenliang's warning was silenced by Chinese officials at the time and called misinformation.
"The so-called rumor contained information that, if disclosed immediately, could have saved hundreds of lives and prevented the spread of the disease," said Victor Shih, associate professor of political economy at the University of California, San Diego
A printed letter shows an agreement between Wenliang and Chinese officials, which says "If you insist on your views, refuse to repent and continue the illegal activity, you will be punished by the law. Do you understand?" To which Wenliang responded, "I understand."
Many people have used the phrase "Do you understand?" in their online posts revolting against the government.
"Remember your anger, sadness and resistance long after this epidemic. Do you understand?" said a Wuhan-based rapper named Zinco.
The open expression of grief and anger toward the government is rare coming from citizens, since officials under the leadership of Xi Jinping have censored more and more over the last several years.