Op-Ed: What A Columbine Survivor Taught Me About Trauma
Austin Eubanks survived a high school massacre, until he didn't.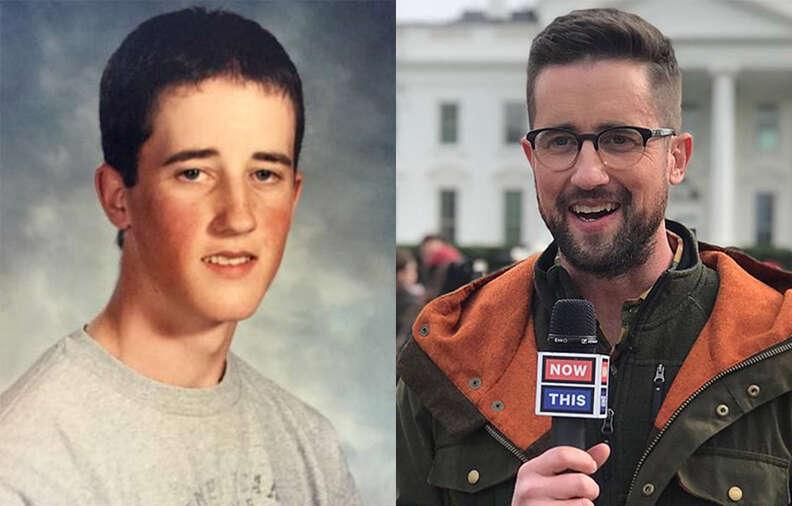 Austin Eubanks was 17 years old on April 20, 1999. He was in the library at lunchtime with his best friend Corey DePooter planning their next fishing trip before heading to the cafeteria. When they realized what was happening, there was nowhere to go but under the table they were sitting at. Huddled together under a desk, Austin was shot once in the knee and in his hand. Corey was shot in the arm, chest, and neck, and bled to death next to his best friend. Eleven other students and one teacher were shot to death at Columbine High School 21 years ago today. Their bodies lay on the floors of the library, cafeteria, and classrooms all day and overnight, until the police determined it was safe to enter and recover them.
Austin's memory of the moments after Corey's death in the library were hazy. His clearest memory was watching his father jump over a fence to get to him, which is also when he described feeling the pain start to set in — the physical pain of sustaining two gunshot wounds, the emotional pain of the loss of his best friend, the onset of trauma hit him right at that moment. Austin said he became an addict in that moment, the moment that felt he needed to be numb. His wounds were superficial, but he kept taking prescription opioids for the emotional pain that he couldn't control. He spent over a decade in active addiction following the shooting, eventually getting clean and helping to start a long-term rehabilitation facility in Steamboat Springs, Colorado. He became a motivational speaker, and after a TED Talk he gave in 2017 on the topic of pain went viral, he became a leader in the recovery community. He died of a drug overdose in May of 2019.
I called Austin the day after the shooting in Parkland, on February 15, 2018. I had been up late helping producers to book travel, find gear, and plan the coming days after this latest mass shooting inside of a school. I left him a message at work, telling him I was sorry to be calling under such sad circumstances, but as a survivor of a school shooting, could he provide some insight into the trauma that these kids have just experienced? When we spoke, he poured out his thoughts on Parkland, and his own experiences as an injured Columbine survivor — he was articulate, thoughtful, and smart. Austin had just been booked on a cable news program and was flying to New York for it. He generously agreed to our interview, and to speak further on the long term impact that an event like this would have on the survivors.
I met Austin outside to bring him into our studio around 8pm, a skeleton crew graciously offering to work late. He was strikingly handsome, his eye contact was direct and intentional, and behind his eyes I could feel his kindness immediately. We talked about Parkland, about gun violence, and we talked about his journey to recovery after over a decade in active opioid addiction as the result of his trauma. We talked about this germ of an idea, how to tell the story of trauma that becomes generational and can be passed on, and how school shootings have played a part in the collective American trauma. The next day, my colleagues and I decided that what had started as a single video should be the focus of a feature-length documentary. A few days later, Austin and I made plans to meet and film again at the March For Our Lives in Washington, D.C., and then in Colorado, where he still lived.
I noticed in D.C. how proud he was of his accomplishments, posting his media appearances and behind the scenes photos to Instagram, but in a way that always seemed more excited than boastful. After I interviewed him in front of the White House, he asked me to take a photo of him holding the NowThis microphone cube. "Make me look official," said the subject of our documentary, the host of a viral Ted Talk, an inspiration to thousands. In that interview, he said, "We might not see change tomorrow, we might not see it next month, we might not see it next year, but I feel that we are on the right track to creating that meaningful change." Back at work, we had barely begun principal photography, and I knew that was the line that would end our film. (In every version we made it was the final thought, a message of hope, until it wasn't. Austin was no longer in the world to give us hope, so we cut that scene from the film.)
Austin and I stayed close after we filmed in Colorado and he would frequently ask about the film's progress. Every time there was a mass shooting, he texted or called. "How are you holding up? I know this is hard for you," he would say or write. I had never experienced a mass shooting or lost a friend as a result of one before. Why would he ask me about my trauma, I wondered, when I had so relatively little compared to his? I thought the gesture was sweet, and caring, and I always appreciated it. He would remind me that this subject matter always takes its toll on the storyteller, but I reassured him I was taking care of myself.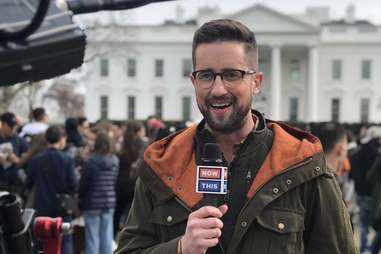 I tried to keep my conversations lighter when reaching out by asking about his sons, the recovery center, the mountains. I called him to tell him when we finished Generation Columbine, and I called him again to tell him that it had been licensed by a premium cable network. He was proud, and enthusiastic as always, giving me media advice, never missing the opportunity to tie everything back to wellness and recovery, wondering how we could distribute this in the addiction community so they would put more focus on trauma and its roots. He joked about a cowboy jacket I wanted to buy in Colorado, and we said goodbye. A couple of weeks later he died of an acute heroin overdose.
He was the pain expert, always trying to give me advice on how to handle my own. But I didn't have direct trauma from a school shooting, until he gave his to me. That's how trauma works, it spreads in an infinite ripple. I believe Austin's death was ultimately a result of the shooting at Columbine High School more than two decades ago, and everyone who is traumatized by his death now has that direct connection to Columbine. Last year, my colleagues and I lost another subject of our film, the father of a Sandy Hook victim. He died by suicide in March 2019, as did two survivors of the shooting in Parkland. Their loved ones, their communities, all of the lives they touched, have now inherited their trauma, and in turn will affect their loved ones, their communities, and so on.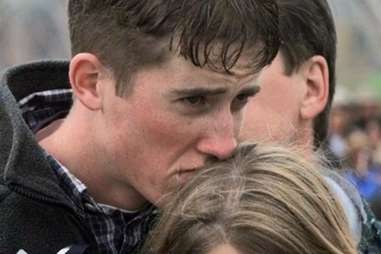 Austin didn't want his life to be defined by the tragedy that happened in his adolescence, so even talking about him on this particular day feels strange. His life was defined by many things, most importantly his children who he loved so deeply, and by a desire to help others. But who he would become as a person — the kindness, and the empathy, the pain, and the suffering – was permanently impacted in the moment that two teenage boys shot Austin and his friends under a table in the library of their school. Trauma doesn't disappear, and time doesn't heal all wounds. The impact that you have on others is what lasts. Austin had a tremendous impact on others, despite having his life cut short at the age of 37.
Last month was the first March without a school shooting since 2002, only because students could not physically go to school due to the outbreak of COVID-19. But this March also saw the highest number of gun purchases in the last 8 years, and school will come back.
I worry that without a significant shift in both the way society views and reacts to gun violence, as well as meaningful legislation, that we are not, as Austin said, on the path to creating meaningful change.
Right now, 21 years after Columbine, two years after Parkland, and nearly a year since Austin's death, it hurts. It isn't easy to have hope. The best I can do is ask for help when I need it, allow myself to feel sadness when it comes, and try myself to create meaningful change, big or small, whenever possible.
"Generation Columbine" is available on Starz. Watch the trailer here: