Outrage Over George Floyd's Death Sparks Unrest Across the Country
Crowds in Los Angeles, Memphis, and Minneapolis gathered to protest, and some ended up looting stores and setting businesses on fire. At least one person was shot and killed in Minneapolis.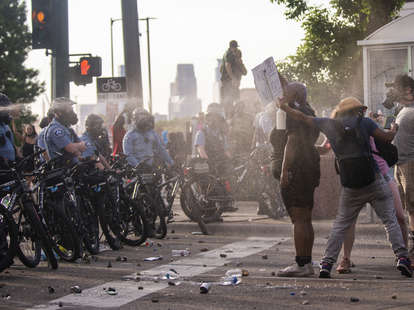 Protesters face police in Minneapolis. Getty Images.
Protests and social unrest broke out across the country Wednesday night in response to the death of an unarmed Black man who was seen in video footage repeatedly saying "I can't breathe" as a white officer kneeled on his neck.
George Floyd, 46, died Monday after a cop arrested and choked him in Minneapolis. In a nearly 10-minute video captured by a bystander, Floyd can be heard moaning in pain and repeatedly pleading with the officer kneeling on his neck that he couldn't breathe.
Police claimed in their report that Floyd resisted arrest, but several recently surfaced videos with additional footage of Floyd's arrest do not show him resisting. Floyd was pronounced dead at a hospital shortly after the arrest.
The video sparked outrage online, provoking demonstrations and unrest in cities across the country.
On Wednesday night, protests escalated in Minneapolis, where the mayor eventually called in the Minnesota National Guard to respond to looting, violence, and police use of tear gas. One person was shot and killed near the protest site, and police have arrested a suspect on a possible homicide charge, the Star Tribune reported. Police also responded to a report of a stabbing and found a man lying on the sidewalk. Police then said the man had been shot, and he was pronounced dead at a hospital.
Plumes of smoke and ash covered the streets of the city in the aftermath on Thursday morning.
People were captured on video looting a local Target, and multiple videos surfaced of a woman in a wheelchair reportedly attempting to stab people leaving the Target. Protesters also looted an AutoZone and lit it on fire.
A Cub Foods was also left destroyed.
Floyd's brother, Philonise Floyd, told CNN that he wants protests to be peaceful but understands that "people are torn and hurt."
"These officers [involved in George's arrest] need to be arrested right now... and held accountable about everything because these people want justice right now," he continued.
The latest demonstrations in Minneapolis followed others the previous night, when police in riot gear fired tear gas and rubber bullets to disperse protesters, some of whom vandalized and threw rocks at the building and squad cars.
Protesters in both Los Angeles and Memphis, Tennessee also showed their outrage over Floyd's death.
In downtown LA, hundreds of demonstrators with Black Lives Matter flags gathered to protest, while several others blocked a freeway entrance. KTLA reported that protesters jumped on top of a California Highway Patrol car as it drove through a crowd. Protesters were reportedly wearing masks, and organizers told people to practice social distancing during the demonstration.
Los Angeles police responded to protesters on Twitter, while LAPD Chief Michel Moore called the video of Floyd's death "incredibly disturbing."
In Memphis, crowds of protesters gathered in the midtown area, chanting "I can't breathe" and holding Black Lives Matter signs, The Commercial Appeal reported. Some protesters were speaking directly to police officers on the scene about issues they have.
Many people have called out the differences in police responses to the protests on Wednesday night, compared to those in recent weeks that predominantly white people led over stay-at-home orders.
All four of the officers involved in Floyd's arrest and subsequent death were fired. The Minnesota Bureau of Criminal Apprehension (BCA) announced Tuesday it would be investigating his death and reviewing body cam footage. The BCA investigates most in-custody deaths, the Star Tribune reported. The FBI is also leading an investigation on whether there was a civil rights violation.