Pakistan Is Facing a Dire Environmental Crisis
Here's how it is affecting vulnerable people in the region.
Last month, Jacobabad, Pakistan became the hottest city on Earth.
The extreme heat waves in Pakistan are responsible for a large number of deaths and failed crop cycles. Rising temperatures have also led to the melting of many glaciers in Pakistan. In May, melted ice from the Shisper glacier led to flooding in the Hunza Valley — destroying a bridge and leaving people stranded.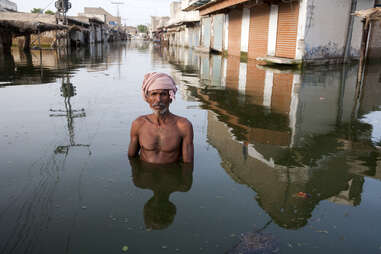 Pregnant people are among the most vulnerable when it comes to high temperatures. An analysis of studies conducted since the 1990s found that pregnant people have a higher risk of suffering adverse effects after extended heat exposure. People from low-income countries like Pakistan are even more at risk, as their economic situations force them to work through pregnancies without things like air-conditioning or fans.
Environmental experts propose that governments and leaders start combatting the climate crisis by making large-scale structural changes such as offering medical and social services to women throughout the day. They also suggest that people make small daily changes such as using clean energy stoves instead of open-fire ones and replacing heat-attracting roofing material with reflective solar material.