Pakistan Passenger Plane With 98 Aboard Crashes In Karachi, Dozens Presumed Dead
The crash occurred just days after the country had resumed domestic flights following the easing of coronavirus-related restrictions.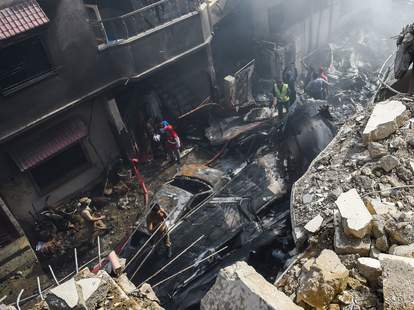 A Pakistani passenger jet carrying 98 people crashed Friday in the city of Karachi, and dozens are presumed to be dead.
The plane reportedly crashed in a crowded residential neighborhood near the airport. Aviation officials and the airline later said it was carrying 91 passengers and seven crew members, the Associated Press and CBS News reported.
Karachi Plane Crash Updates: PRCS Ambulances with Emergency Response Teams are deployed at crash site and taking part in resuce and relief operation.The volunteers are working alongwith rescue and relief teams, recovering dead bodies from debris.#KarachiPlaneCrash #PRCSResponse pic.twitter.com/LFvtrahYNn

— Pakistan Red Crescent (@PRC_official) May 22, 2020
The AP also reported that Mayor Wasim Akhtar said he believed all aboard died, but aviation officials later said two people survived. The total number of fatalities is not yet clear, but the Provincial Health Ministry reportedly said it had recovered 57 bodies, according to the AP. Reports suggest the death toll will rise. 
PIA spokesman Abdullah Khan told CNN that the flight was scheduled to land at 2:30 p.m. local time in Karachi but went missing from the radar. The pilot then made a mayday call saying he was experiencing technical problems and that they "lost two engines."
"He had been told both landing strips were available for his use but he preferred to use the go-around landing route, we are looking into the technical issue. Our prayers for the lives that have been lost," Khan said.
A witness told BBC that some houses collapsed, adding, "there was so much fire and smoke ... I can't tell you what a horrible thing it was."
Pakistan's Prime Minister Imran Khan posted on Twitter Friday that he was "shocked & saddened" by the crash. Later, he thanked world leaders for their condolences after the "loss of precious lives."
Shocked & saddened by the PIA crash. Am in touch with PIA CEO Arshad Malik, who has left for Karachi & with the rescue & relief teams on ground as this is the priority right now. Immediate inquiry will be instituted. Prayers & condolences go to families of the deceased.

— Imran Khan (@ImranKhanPTI) May 22, 2020
I thank world leaders for reaching out to condole over the tragic air crash and loss of precious lives. The people of Pakistan value this support and solidarity in our hour of grief.

— Imran Khan (@ImranKhanPTI) May 22, 2020
Pakistan began resuming domestic flights on May 16, after the government began lifting restrictions meant to slow the spread of the coronavirus.
The crash occurred as many in the country prepare for the end of Ramadan and the beginning of Eid al-Fitr.