Paid Content For

How 2 Siblings Used Haiti's Natural Resources to Give Back to the Community
When the pair went to Haiti to help after the 2010 earthquake, their lives changed forever.
Paid Content For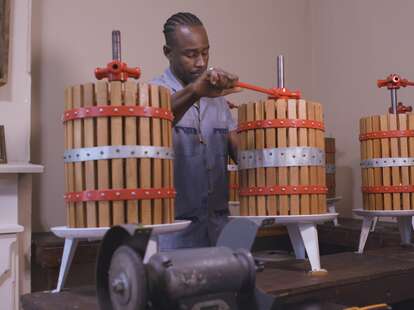 Credit: NowThis
Credit: NowThis
When a devastating 7.0-magnitude earthquake struck Haiti in 2010, Rubens Amedee and his sister Fredeline Amedee-Benjamin headed to the country to help. That trip changed their lives.
"As professionals here living in the States, we felt that we can, at the very minimum, translate, just help communicate with everything that was going on," Amedee told NowThis. "One of the things that we realized was a lot of the problems were pre-existing before the earthquake. They were just heightened by the earthquake."
Once they came back home, they knew they wanted to do more to help. Understanding that the basis of every thriving community is education, their idea for the BATI School was born.
BATI stands for "Building Ayiti To Inspire" and translates to "to build."
"We started off with a school, and we thought it was gonna be all about education," Amedee said. "But we realized that it's just much bigger. It's community, it's people, and the needs of the people are the same exact needs that we have here."
But running a school requires funds, and fundraising efforts at the time weren't proving to be enough. So the siblings created Papa Rozier Farms. "I always say [it] was created out of necessity, because you can have all these grandiose dreams and all of these things that you want to do, but if you don't have the funding for it, it's just the pipe dream," he said.
Named after the siblings' grandfather, who was a farmer in southwest Haiti, Papa Rozier is an all-natural beauty storefront that has committed 100% of its profits to building up Haiti.
Their products include castor oil, moringa oil, vetiver incense, lotion bars, and shea butter body cream. "Haiti has a ton of natural resources, so it was just the right thing to do, as far as turning to these resources that we felt the world would appreciate," Amedee said. "So buying a product, literally, it's a reinvestment directly back into Haiti, whether it's the farm or the school."
"Castor oil is at the basic basis of everything Haitian," he said. "So whether it's for your hair, your skin, constipation as a laxative, general inflammation health, castor oil in Haiti is the cure-all for everything. So that one was an easy one for us. We grew up consuming castor oil, using castor oil. We felt that that would be something that would be appreciated here in the States, as everyone is looking for more natural alternatives where it's for their hair and their skin."
Amedee says that from the moment he began his mission to Haiti, he has felt fulfilled. "I've gotten more out of this project than I could ever give," he said. "Just the lessons over the years, the humbling, the understanding. I came from a totally different world as a young professional. I was working at Goldman Sachs … It makes me understand people a little bit better. I'm a better listener. So I love it, and that's kind of what drew me away from the fast pace of New York to putting my hand in soil."