Parler Is Back Online After Getting Booted By Big Tech In Wake Of U.S. Capitol Riot
The social media site that attracts right-wing extremists is up and running again, more than a month after Amazon suspended the site and Apple and Google removed it from its app stores.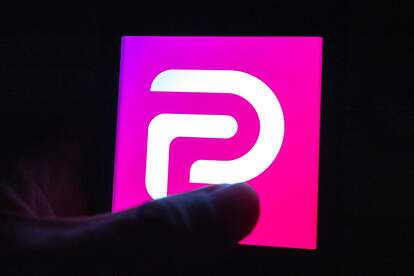 Social media website Parler is back online more than a month after Big Tech companies kicked the haven for right-wing extremists off their platforms in the wake of the deadly U.S. Capitol insurrection.
Parler was revived thanks to California-based web company SkySilk Cloud Services, the new host confirmed Monday. In a statement, SkySilk CEO Kevin Matossian said the company does "not advocate nor condone hate" and that Parler is "taking the necessary steps to better monitor its platform."
"SkySilk truly believes and supports the freedom of speech and more specifically the rights afforded to us in the First Amendment," Matossian continued. "And while we may disagree with some of the sentiment found on the Parler platform, we cannot allow first amendment rights to be hampered or restricted by anyone or any organization."
Last month, Parler went dark after Amazon terminated hosting and Apple and Google removed its app from their stores. The social media site, which promoted so-called free speech as other mainstream networks worked to better root out disinformation and abusive content, attracted right-wing extremists, QAnon followers, and avid Donald Trump supporters. The company fired its CEO John Matze after its part-owner Dan Bongino, a conservative political commentator and host, confirmed in a Facebook video that "the CEO's vision was not ours."
Screenshots showed Parler users inciting violence and plotting events on the website, including the January 6 insurrection at the U.S. Capitol that left five people dead. The website's users also helped spread Trump's baseless claims of voter fraud after he lost the 2020 election.
"AWS provides technology and services to customers across the political spectrum, and we respect Parler's right to determine for itself what content it will allow," an AWS spokesperson told NowThis last month. "However, it is clear that there is significant content on Parler that encourages and incites violence against others, and that Parler is unable or unwilling to promptly identify and remove this content, which is a violation of our terms of service."
After being suspended, Parler filed a lawsuit against Amazon last month, claiming that the defendant violated antitrust laws and requesting that its website be reinstated. U.S. District Judge Barbara Rothstein denied Parler's request, according to court documents obtained by NPR.
NowThis has reached out to Parler for further comment.
On Parler's website, the company writes that users will be "free of agenda-driven 'shadow-banning'" and that it does not curate content on its site.
"Biased content curation policies enable rage mobs and bullies to influence Community Guidelines," the company wrote. "Parler's viewpoint-neutral policies foster a community of individuals who tolerate the expression of all non-violent ideas."
The web version of Parler is live as of Monday morning but does not appear on Apple's app store for download.