This Program Helps People Who Are Incarcerated Become Service Dog Trainers
"It's doing something good ... I do love that after all the bad I've done"
9/15/22 UPDATE: Approx one week after this story was originally published, a K9s For Warriors public relations manager informed NowThis that Carlos James had been re-arrested and is no longer working with the Paws for Change program, calling the news 'very unfortunate.'
After spending almost half his life behind bars, Carlos James got the opportunity of a lifetime when he was accepted into the Paws For Change program.
The program, which is run by the nonprofit K9s For Warriors, helps people who are incarcerated become service dog trainers. The dogs are then paired with military veterans who have been diagnosed with PTSD. Since Paws For Change began in September 2021, about 30 incarcerated people have graduated from the program and 12 shelter dogs have been trained.
James joined the apprenticeship program while incarcerated at Florida's Montgomery Correctional Center.
"I would say the best part about being a dog trainer is, you know, you're actually doing it for a cause. You're doing it to help people who put their lives on the line for our country," James told NowThis. "It's doing something good. I just — so I do love that after all the bad I've done. So, you know, I feel like… let me try to clean up my wrongs."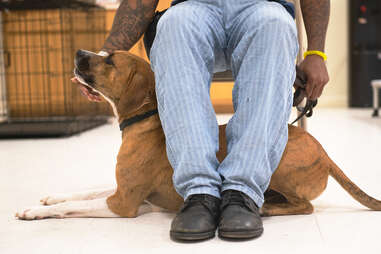 Daniel Clavel, who is the assistant K9 training manager for K9s For Warriors and hired James, says the program is very rewarding. "You've opened up someone's heart. You've changed a life. You've provided something that's very positive, and you've provided a new change in their life."
The program is designed to offer people who are incarcerated a second chance in their careers and in life. Candidates for the program have to meet certain requirements, such as serving a sentence longer than six months and having no history of violent behavior.
It was first created with the help of Officer Lisa Harrell, who leads the initiative at Montgomery Correctional Center. For Harrell, James was an easy hire. "[He] came into the program, and he had been incarcerated for a while. He was looking to make a change. And he had a love for animals. And he came in and gave 100% effort into his training," she explained.
James became an employee at Paws For Change the day he was released from prison in late July and told NowThis he has already trained three dogs and is working with a fourth. Clavel said, "You know, every part of me lights up when I get to talk about Carlos. He's not only, you know, changed our whole way of thinking with how we wanna make this program successful. But, I mean, he's changed me."
On top of his success with the dogs, James says the program has also changed the way his daughter sees him. "She goes around telling everybody, 'My dad's a dog trainer.' Yep. 'My daddy train dogs. He gonna train my dog for me,'" Carlos explained.