Pelosi Floats 25th Amendment After Trump Calls Getting COVID-19 "A Blessing From God"
The House Speaker told reporters that on Friday she would address the 25th Amendment, which involves transferring power from a president.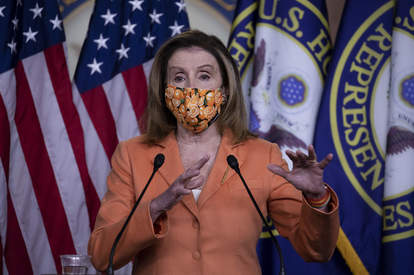 House Speaker Nancy Pelosi (D-CA) told reporters on Thursday to expect a discussion Friday on invoking the 25th Amendment — which involves transferring power away from the president.
Pelosi's announcement during her weekly news conference came after President Trump, who announced his COVID-19 diagnosis last week, posted a video Wednesday night promoting a treatment from Regeneron that he said helped him get better. He also said that getting COVID-19 was "a blessing from God." 
The president's doctor has repeatedly presented a rosy depiction of his patient's recovery, though the president's health condition has remained unclear.
Pelosi told reporters: "Tomorrow, by the way, tomorrow, come here tomorrow. We're going to be talking about the 25th Amendment."
The 25th Amendment covers transferring power to the Vice President when the current sitting president is unable to lead because of resignation, death, or inability to discharge the powers and duties of the office. The amendment does not clarify what qualifies as "inability" to lead, but does offer further guidance if the vice president seat is vacant. 
When pressed by a reporter to elaborate more, Pelosi said, "If you want to talk about that, we'll see you tomorrow."
New - Pelosi and Raskin to introduce bill creating a commission to review President's health and fitness for office. This is what she was referring to when she referred to 25th Amendment. She's having a press conference tomorrow pic.twitter.com/nCXxzyfG16

— Manu Raju (@mkraju) October 8, 2020
Pelosi later gave an interview for Bloomberg TV and said "there may be some impairment of judgment" from the steroids and medications Trump has been taking.
"The president is, shall we say, in an altered state right now so I don't know how to answer for his behavior," Pelosi said.
Trump's health and ability to continue to lead have been widely speculated since he announced last week that he and First Lady Melania Trump tested positive for COVID-19. Trump spent three days at Walter Reed Medical Center and was discharged on Monday. In several tweets and statements, Trump has told his followers that he is doing better, though his doctor said Monday that he "may not entirely be out of the woods yet."
In his video posted Wednesday night from The White House, the president praised his COVID-19 treatment.
"This was a blessing in disguise," Trump said. "I caught it, I heard about this drug, I said, 'let me take it,' it was my suggestion, I said 'let me take it,' and it was incredible the way it worked. Incredible."
Trump continued: "I think if I didn't catch it, we'd be looking at that like a number of other drugs."
He also claimed he would get the same drug treatment for "you all" and that he would "make it free." As of Thursday, more than 211,000 Americans have died of COVID-19.
Trump also told Fox Business on Thursday morning that he didn't think he was contagious and continued to downplay the virus and its severity.