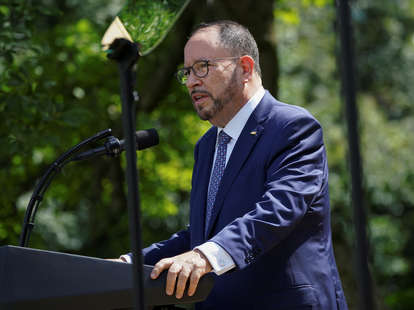 Reuters/Kevin Lamarque — Robert Unanue speaks before Trump signs an Executive Order on the White House Hispanic Prosperity Initiative at the White House, July 9, 2020
Robert Unanue, CEO of Goya Foods, praised President Trump at an event in the White House Rose Garden Thursday, sparking calls for a boycott of his company's products as well as outrage online, including from prominent politicians.
During the event announcing the White House Hispanic Prosperity Initiative, an executive order that creates a new advisory commission to improve Hispanic Americans' access to economic and educational opportunities, Unanue said, "We are all truly blessed ... to have a leader like President Trump who is a builder."
With Trump at his side, Unanue continued: "We have an incredible builder, and we pray. We pray for our leadership, our president."
Shortly after Unanue made the comments, the hashtags #BoycottGoya and #Goyaway began trending on Twitter. People called out Trump's history of inhumane immigration policies, including separating families at the U.S. southern border, and derogatory comments about individuals from Latin countries.
"It's shameful and appalling that the president of Goya Foods is praising the most anti-Latino president in the history of our country," Latino Victory Fund CEO Nathalie Rayes told NBC News. "President Trump has disrespected and attacked the Latino community since Day 1."
Rep. Alexandria Ocasio-Cortez (D-NY) and former Democratic presidential candidate Julian Castro also denounced Goya on Thursday. Castro specifically mentioned that the company's products have long been a staple in many Latino households.
Goya was founded in Manhattan in 1936 by Don Prudencio Unanue and his wife Carolina, both of whom first migrated to Puerto Rico from Spain. Don had moved to New York City to attend business school in 1918.
The company says it is "the largest Hispanic-owned food company in the United States and the premier source for authentic Latin cuisine." Robert Unanue, the current CEO of the company, is Don Prudencio Unanue's grandson. Goya is currently headquartered in New Jersey.