People Are Calling Out NFL "Hypocrisy" For Bringing Back Tim Tebow Before Colin Kaepernick
Tim Tebow is expected to re-join the league after a lengthy hiatus, sparking outrage online as Colin Kaepernick remains without an NFL offer.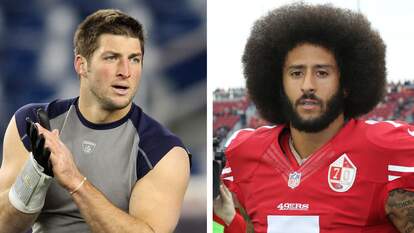 Football fans are calling out the NFL for bringing back former quarterback Tim Tebow after a lengthy hiatus from football, as Colin Kaepernick continues to be blackballed by the league. Tebow famously became a verb for kneeling on the field in prayer after his team scored — "Tebowing" — while Kaepernick sparked a debate in the U.S. by taking a knee during the national anthem in protest of systemic racism.
On Monday, multiple outlets reported that Tebow is expected to sign a one-year deal with the Jacksonville Jaguars as a tight end — a position he has never played. Tebow, 33, left the NFL in 2015 to pursue professional baseball. Tebow has not played in a regular season game since 2012.
Soon after the Tebow news broke, Kaepernick's name was trending on Twitter as people compared Tebow rejoining the league with a less-than-impressive playing record to Kaepernick still being without a contract. Kaepernick, 33, played for six years in the NFL and led the San Francisco 49ers to the Super Bowl in 2013. After he opted out of his contract with the 49ers in 2017, no other team re-signed him.
In October 2017, Kaepernick filed a grievance against the NFL claiming all 32 teams colluded to keep him out of the league, which ended in a settlement in 2019.
In 2019, Kaepernick worked out in front of seven NFL teams' representatives but was not given any offers.
Kaepernick ignited controversy during his last season in 2016 when he began kneeling during the national anthem in protest of police brutality and systemic racism. His kneeling would later inspire other professional athletes to do the same and drew attention to racism in the U.S. Kneeling also became a common act of solidarity during the 2020 civil rights demonstrations following George Floyd's murder.
While Tebow rejoining the NFL does not guarantee his success or that he won't be cut before his one-year deal is up, many people called out the league as hypocritical for giving a white player another chance, compared to Kaepernick: