People Are Protesting in Large Groups Against Stay-at-Home Orders
A protest in Michigan was planned in part by an organization backed by the family of Education Secretary Betsy DeVos.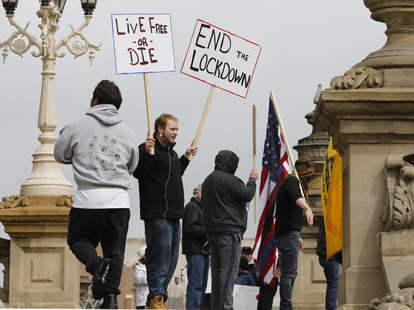 Protesters in Lansing, Michigan/ Getty Images
Large groups of protesters have gathered in parts of Michigan, Ohio, and North Carolina, opposing their states' stay-at-home orders that led to the shutdown of businesses in order to slow the spread of coronavirus.
On Wednesday, thousands of people in Michigan lined up their cars in front of the State Capitol building in Lansing in protest of Democratic Gov. Gretchen Whitmer's stay-at-home order. Some of the restrictions bar state residents from traveling to in-state vacation homes or using a motor boat and require stores to close off sections that are "dedicated to carpeting, flooring, furniture, garden centers, plant nurseries, or paint."
Some Michigan residents stayed in the traffic jam, while others protested on foot outside of the capitol building for "Operation Gridlock," according to NBC News. Protesters were reportedly waving pro-Trump and Confederate flags, chanting "lock her up" and "Open up Michigan!"
The demonstration was planned through two conservative organizations, Michigan Conservative Coalition and the Michigan Freedom Fund—the latter of which has ties to the family of Education Secretary Betsy DeVos, though a spokesperson for the family said they did not fund this specific protest. On Monday, Gov. Whitmer criticized DeVos for her family's ties with the group.
"This group is funded in large part by the DeVos family and I think it's really inappropriate for a sitting member of the United States president's cabinet to be waging political tax on any governor, but obviously on me here at home," Whitmer said in a press conference. "I think that they should disavow it and encourage people to stay home and be safe."
The Michigan Conservative Coalition is "a group of supporters of President Donald Trump that was founded by state Rep. Matt Maddock, R-Milford, and is now run by his wife, Meshawn Maddock," according to the Detroit Free Press.
On Tuesday, more than 100 people in Raleigh, North Carolina, gathered in the downtown area in protest of the state's stay-at-home order. Members of a private Facebook group called "Reopen NC" organized the protest, according to local news outlet, The News & Observer, though it's unclear if the group is backed by conservative interest groups, similar to the ones in Michigan.
The protesters were reportedly demanding that Democratic Gov. Roy Cooper lift the state's stay-at-home order by April 29, citing the need to restart the economy and allow people to go back to work.
In Ohio, more than 100 protesters gathered outside of the Statehouse in Columbus during Republican Gov. Mike Dewine's coronavirus press briefing. The stay-at-home order in Ohio was implemented on March 22 and is set to expire on May 1.
Some of the demonstrators' signs reportedly read "Quarantine worse than virus," and "Social distancing or social conditioning. We do not consent." The Columbus Dispatch reported that protesters were demanding that people in Ohio be allowed to go back to work—one man told the Dispatch that he questioned information coming from the World Health Organization. A Facebook group called "Ohio Stands United" was reportedly the main outlet used for organizing the protest.
Earlier this week, The Washington Post reported that several conservative advocacy groups were planning on demanding the federal government reopen the economy and loosen or end stay-at-home orders. The movement is expected to be led by several conservative group members, some of which have close ties to White House officials.
In an interview with NowThis, Michigan Attorney General Dana Nessel addressed the protests, acknowledging that "this is hard for everybody. This is a complete and total disruption of our everyday lives. But I think people should understand this is about protecting people's lives, period."
She went on to say that "the last person who'd want to be restricting people's freedom at this time and what kind of business they can do is our governor," and that if Michigan succeeds in social distancing and flattering the curve, Gov. Whitmer "will have saved thousands and thousands of people's lives, even if they never understand it or appreciate it."
"And to me, that's what leadership looks like," Nessel added.