People Are Thirsting After Gov. Andrew Cuomo Right Now
The governor of New York has had his leadership skills tested as the number of coronavirus cases surge in the state, gaining some unexpected attention.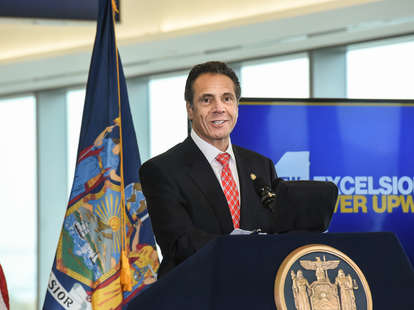 Getty Images
Getty Images
With many politicians rising to the occasion of leadership during the coronavirus pandemic — and some notable ones failing to —one governor has captured the attention (and hearts?) of many people in the country.
New York Gov. Andrew Cuomo has been making daily appearances on TV as the state has seen an unprecedented amount of COVID-19 cases, making New York City the epicenter of the virus in the U.S. Cuomo's press conferences and executive actions have led to people admiring his leadership skills during this unprecedented pandemic, comparing (and contrasting) him with President Trump. Some argue that he's exactly what the country needs in a time of crisis, while also acknowledging his less than perfect politics in the past.
There have also been… other feelings expressed about the governor:
Chelsea Handler admitted to having a crush:
Along with plenty of other people, who tweeted out their "thirst" for the governor:
Some people are confused by the whole thing:
While others don't want people to forget about Chris Cuomo, who works for CNN and sometimes argues with his brother on live television:
Many people argue that the governor's leadership has been impressive during the pandemic:
Some have even said, "President Cuomo:"
But people who know Gov. Cuomo's history of politics aren't sold:
And of course, there's another person who has emerged as a reassuring leader in these trying times: