People Rally Behind Jill Biden After Male Writer Suggests She Drop Her "Dr." Title
The op-ed by Joseph Epstein, an author and former adjunct professor, addresses Biden as "kiddo" and claims that her inclusion of "Dr." in front of her name "sounds and feels fraudulent, not to say a touch comic."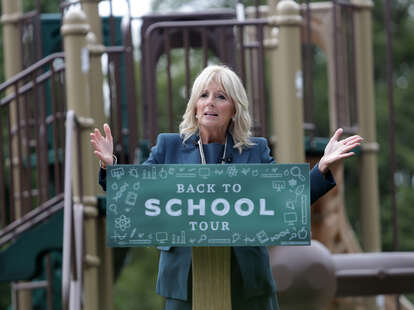 The Wall Street Journal is facing immense backlash for a "sexist" opinion article that questions incoming First Lady Jill Biden's right to use the title "Dr." Biden received her doctorate degree more than a decade ago.
The op-ed by Joseph Epstein, a writer and former adjunct professor at Northwestern University, was published December 11. In the first line, Epstein addresses Biden as "kiddo," and then claims that her inclusion of "Dr." in front of her name "sounds and feels fraudulent, not to say a touch comic." He also said she earned her doctorate through what he called an "unpromising" dissertation, which is titled "Student Retention at the Community College Level: Meeting Students' Needs."
"The Ph.D. may once have held prestige, but that has been diminished by the erosion of seriousness and the relaxation of standards in university education generally," Epstein continues in the biting opinion piece.
After earning two master's degrees, Dr. Biden received her doctorate in 2007 from the University of Delaware. She also taught at a community college in Virginia, and has been a continuous advocate of community colleges, calling them "one of America's best-kept secrets."
Biden herself responded to the piece on Sunday, saying, "Together, we will build a world where the accomplishments of our daughters will be celebrated, rather than diminished." She is set to make history as the first First Lady to work full-time.
The Journal's editorial page editor Paul A. Gigot defended the op-ed on Sunday evening, claiming that President-elect Joe Biden and those close to him were instigating a coordinated negative response to the piece, and that it was a "relatively minor issue."
The op-ed was continuously criticized over the weekend for being sexist as well as racist for Epstein's suggestion that a "simile to denote rarity" would be "rarer than a contemporary university honorary-degree list not containing an African-American woman."
Former First Lady and 2016 presidential candidate Hillary Clinton tweeted on Sunday, "Her name is Dr. Jill Biden. Get used to it."
Former First Lady Michelle Obama also came to Biden's defense on Instagram, saying, "All too often, our accomplishments are met with skepticism, even derision. We're doubted by those who choose the weakness of ridicule over the strength of respect. And yet somehow, their words can stick—after decades of work, we're forced to prove ourselves all over again."
President-elect Biden's recently-nominated director of communications Elizabeth Alexander called the piece "Sexist and shameful," while Jill Biden's spokesperson Michael LaRosa demanded an apology from the Journal.
Bernice King, daughter of Martin Luther King Jr., also tweeted at Biden saying: "My father was a non-medical doctor. And his work benefited humanity greatly. Yours does, too."
Even the Merriam-Webster Dictionary defended Biden's use of "Doctor," tweeting, "The word 'doctor' comes from the Latin word for 'teacher.'"
Epstein's old employer, Northwestern University, expressed criticism of the op-ed The University's English department said in statement that it rejected his opinion on Biden "as well as the diminishment of anyone's duly-earned degrees in any field, from any university." It also reportedly removed Epstein's profile on its website.