People's Location Data Is Being Used To Track Social Distancing
Companies and public health officials are turning to data to help interpret how the virus is affecting various areas and who is following social distancing guidelines.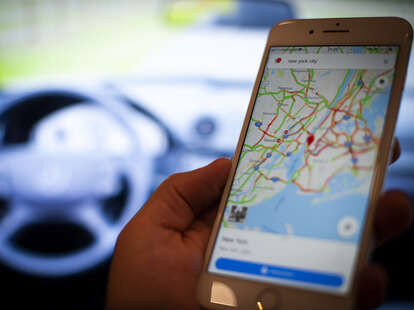 Getty Images/a mobile phone with the Google Maps application.
Among the many steps being taken globally to slow the spread of coronavirus, public health officials are turning to data to interpret how the virus is affecting various areas and who is following social distancing guidelines.
Companies and governments say the data collection is an innovative way to understand the risks of a fast-moving virus with exploding case numbers, but some critics have pointed out potential privacy risks. The Centers for Disease Control and Prevention has also highlighted the benefits of using surveillance to track the spread of an infectious disease, saying the practice helps authorities assess how well prevention measures are working, identify high-risk areas, and best allocate resources.
However, some digital rights advocacy groups have warned about the importance of protecting privacy and respecting human rights, even during a pandemic. New America's Open Technology Institute policy director Sharon Bradford Franklin wrote an article for Slate cautioning government officials to consider the difference between using data to track a virus versus specific individuals.
Google announced on April 3 the launch of COVID-19 Community Mobility Reports. The company says the reports could help public health officials understand how people's movements across the world have changed in response to policies designed to slow the spread of the virus. Using data from those who have opted in to storing their location history with Google, the company is publishing reports (that it says it will update regularly) that illustrate which areas are adhering to social distancing guidelines.
"As global communities respond to COVID-19, we've heard from public health officials that the same type of aggregated, anonymized insights we use in products such as Google Maps could be helpful as they make critical decisions to combat COVID-19," the post explained.
In the U.S., data is broken down by state and shows types of locations (such as retail & recreation, transit, and parks) that people have frequented less often. For example, its report for New York — which has been hard hit by the outbreak — shows a 62% decline in visits for retail & recreation venues, 47% decline in parks, and a 68% decrease in transit stations across the period of February 16 to March 29.
Facebook recently announced tools that organizations can use to respond to the pandemic, including High Resolution Population Density Maps, which helps nonprofits and other agencies respond to natural disasters and plan vaccination campaigns.
On April 10, Apple and Google also announced a partnership regarding COVID-19 tracking technology. Starting in May both companies will work to enable users to share data through Bluetooth transmissions and approved apps from health organizations.
State governments are also using location data in an effort to manage the spread of the virus. North Dakota (which notably has yet to issue a "stay-at-home" order") recently launched an app that would help determine if people who are infected have exposed others to the virus via location tracking.
Gov. Doug Burgum announced the Care19 app launch at his daily briefing on Tuesday. People who download the app will be given random ID numbers, and the app will anonymously track the numbers' whereabouts in locations where they spend 10 or more minutes throughout the day. According to North Dakota's state government site, If app users test positive for COVID-19, the North Dakota Department of Health can access their information only with their consent "to help in contact tracing and forecasting the pandemic's progression with accurate, real-time data."