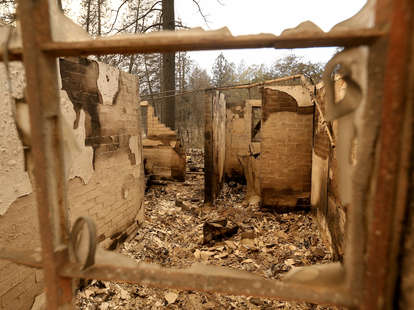 Pacific Gas & Electric (PG&E), California's largest utility, announced on Monday that it will plead guilty to involuntary manslaughter in connection to the 2018 Camp Fire.
Last year, California regulators determined that one of PG&E's electrical transmission lines caused the fire, which killed 85 people and destroyed nearly 19,000 homes, businesses and other buildings.
Under a plea agreement struck with the Butte County District Attorney, PG&E will plead guilty to 84 counts of involuntary manslaughter and one count of unlawfully starting a fire. It will pay approximately $3.5 million in fines as well as fund efforts to restore access to water for the next five years for residents impacted by the loss of the Miocene Canal—which was destroyed by the Camp Fire.
A 2019 report concluded that the PG&E transmission line broke from an almost-century-old tower near Paradise, California, that the company had failed to maintain properly even though it ran through a densely-forested area.
Following the wildfire claims, PG&E has been working to emerge from bankruptcy by June so it can be included in a California wildfire fund that could cover the costs of future fires. Bankruptcy emergence occurs when a company goes into bankruptcy, but reorganizes its debts and assets, and creates a plan to pay all or some of its creditors. On Friday, the approval of the utility's bankruptcy emergence by California Governor Gavin Newsom was announced, in exchange for their pledge to spend billions of dollars to help wildfire victims.
The plea agreement, announced in a securities filing, details that PG&E had accepted the maximum penalty of $3.5 million and says that "no other or additional sentence will be imposed on the utility in the criminal action in connection with the 2018 Camp Fire."
"Today's charges underscore the reality of all that was lost," PG&E chief executive Bill Johnson said in a Monday statement, "and we hope that accepting those charges helps bring more certainty to the path forward so we can get victims paid fairly and quickly."
Since the Camp Fire, the company says it has taken many steps to reduce wildfire risks and aid residents who were displaced by the fire.