PHOTOS: Peaceful Protests Across U.S. In Wake Of George Floyd's Death Only Get Bigger
From major cities worldwide to small towns all over the U.S., protesters continued to show up in big numbers for a second weekend.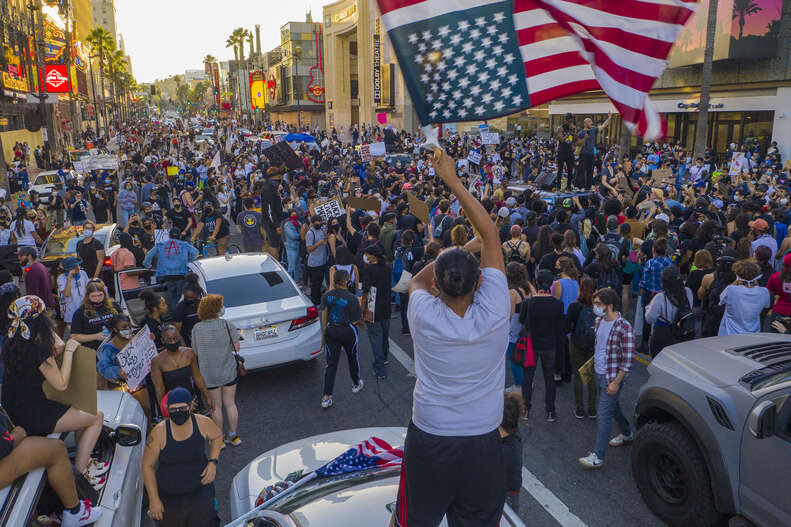 Peaceful protests against racism and police brutality continued around the U.S. and the world on the second weekend since the death of George Floyd at the hands of Minneapolis police. Many observers said the protests have only grown in size, with some of the crowds totaling the biggest turnouts yet in recent days.
Black Lives Matter protests in Minneapolis, as well as major cities including New York, Chicago, and LA, have continued for 13 days straight, while demonstrators have also organized several protests in small-town America. Protests have been held in all 50 U.S. states as well as international cities like London, Paris, Berlin, Tokyo, Sydney, and more.
As the protests enter a third week, activists whose rallying cry includes "defund the police" could have some victories to point to: major cities including Minneapolis, New York, and LA have announced plans to modify their police departments or significantly cut their budgets.
In LA, authorities estimated that more than 50,000 protesters turned out over the weekend in Hollywood. Drone footage of the massive protest, thought to be the largest one in southern California over the weekend, was widely shared on social media:
Family members, church leaders, state officials and members of the public gathered for a memorial service for Floyd in North Carolina, where he was born.
Sheriff Hubert Peterkin spoke at the private memorial and received a standing ovation for his blunt remarks about police and race. "I want you to repeat six words," he said to his fellow members of law enforcement. "It don't mean nothing if you can't say these six words: We are part of the problem." According to the New York Times, he also said, while "looking directly at Mr. Floyd's family, that ingrained racism had led to Mr. Floyd's death."
"If I deny all the wrong that law enforcement is doing today, I am denying the color of my skin. I am a black man first, and then law enforcement," Peterkin said.
Elsewhere on the east coast, protesters continued to show up in D.C., outside of the White House and in the nearby Black Lives Matter plaza, newly renamed by D.C. Mayor Muriel Bowser. Last week, White House officials erected a tall fence around the presidential residence, designed to try and push protesters further back. Activists have since turned the gate into a call for justice.
Rep. John Lewis (D-GA), the longtime civil rights activist and icon who is currently battling cancer, visited Black Lives Matter plaza with Bowser.
In New York, peaceful demonstrations continued all over the city. Mayor Bill de Blasio lifted the citywide curfew of 8 p.m. ET on Sunday, after many nights of protests continuing well past that time.
Sen. Chuck Schumer (D-NY) attended a protest in Brooklyn, near his home.
Other communities in New York expressed solidarity as well:
Aerial footage of a protest in Philadelphia showed a massive turnout, thought to be the biggest march in the city yet since the death of Floyd:
Major protests were organized in cities and towns across the South as well, with many turning out despite high temperatures:
In Henrico County, Virginia, "the self-proclaimed president of the Virginia KKK" drove a car into peaceful protesters. No one was injured, according to local station WTVR. The man faces several charges and an attorney for the county said they've opened a hate crime investigation into the incident.
Worldwide, protesters filled the streets of major cities to chant "Black Lives Matter," and also targeted their native countries' history of racism and harm.
Derek Chauvin, the police officer who knelt on Floyd's neck for 8 minutes and 43 seconds, appeared in court Monday, two weeks after Floyd's death. A judge kept his bail at $1 million after it was raised last week when Minnesota Attorney General Keith Ellison upgraded his charges to second-degree murder.
Democratic presidential candidate Joe Biden traveled to Houston Monday to meet with Floyd's family ahead of his funeral there tomorrow. It is the furthest the former vice president has traveled from his home base of Delaware since elected officials issued stay-at-home orders due to the coronavirus outbreak in March.
Floyd grew up in Houston and mentored young men in public housing projects, "urging them to quit violence and seek a better life," according to USA Today.