Photos: The National Guard Is Occupying The Capitol For The First Time In 150+ Years
Thousands of troops were at the Capitol during a House vote on the second impeachment of President Trump, one week after the deadly riot he incited. Many noted the photos' eerie resemblance to illustrations of troops occupying the Capitol during the Civil War.
National Guard members occupied, guarded, and slept in the U.S. Capitol as the House moved to impeach President Trump for a second time. Striking photos being shared online are highlighting the resemblance to imagery from the Civil War.
According to House security, Wednesday marks the first time troops have set up camp overnight in the U.S. Capitol since the Civil War in the 1860s.
The soldiers were deployed following the deadly pro-Trump insurrection at the Capitol exactly one week ago, which sparked fears of and preparation for more violence, potentially across the nation, ahead of President-elect Joe Biden's inauguration on January 20.
"Right now [Jan. 11], we have approximately 6,200 National Guard soldiers and airmen from six states and the District of Columbia on the ground in the [National Capital Region] supporting civilian authorities." Army Gen. Daniel Hokanson, Chief of the National Guard Bureau said in a statement, adding that they have "received support requests from the Secret Service, Capitol Police, and Park Police, and have been authorized to provide up to 15,000 Guard members to meet current and future inauguration support requirements."
The National Guard members were activated following the violent breach of the Capitol by pro-Trump rioters on January 6, while Congress voted to certify President-elect Biden's electoral victory on January 6. Federal law enforcement officials have opened at least 160 cases related to the attack that left five people dead.
Startling images show droves of the soldiers, some sleeping, in the Capitol's halls as lawmakers, staff and guests operate around them.
Images also show scores of soldiers outside the Capitol.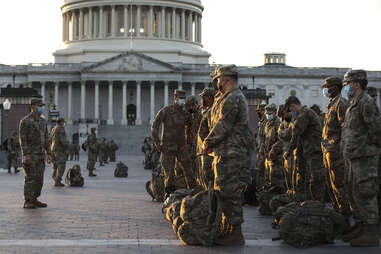 Some pointed out how the images eerily resemble illustrations of troops occupying the Capitol during the Civil War.
Others alluded to the violence and unrest that had occurred in the same halls just days before.
House Speaker Nancy Pelosi was seen personally thanking the soldiers for their protection outside the Capitol on Wednesday.
"Even during this dark time in the history of America, we find reasons for hope," she said on Twitter. "Thank you for your commitment to our American democracy."
Following the deadly riot, House Democrats moved to impeach Trump before he leaves office on January 20, and a House vote was underway on Wednesday afternoon. Having been previously impeached in December 2019, Trump could become the only president in U.S. history to be impeached twice.