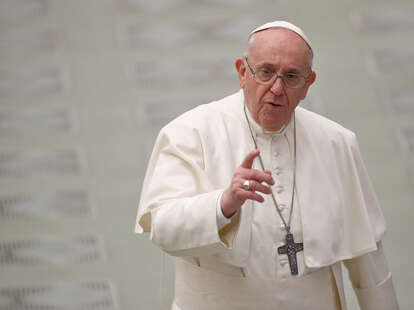 Pope Francis over the weekend called out people who are traveling abroad during the COVID-19 pandemic "only to go on vacation."
During his weekly address on Sunday, streamed from the Vatican's apostolic library, the pope said, "I read in the papers something that quite saddened me: In a country — I don't remember which — to escape the lockdown and have a good vacation more than 40 planes took off that afternoon."
"Those people are good people, but didn't they think of those who stayed at home, to the economic problems of many people who have been knocked down by the pandemic, to those who are ill?" he continued, saying they thought "only to go on vacation, to have fun."
Pope Francis also said that, while it is unclear what the New Year holds, people can still "commit to taking care of each other and of creation, our common home," rather than focusing exclusively on themselves.
Though the pope normally speaks Sundays from a window overlooking St. Peter's Square, the addresses have reportedly been moved inside to discourage crowds and slow the spread of the virus.
It is unclear which news reports the pope was referring to in his condemnation of travel, but recent reports have detailed the tens of thousands of Americans recently traveled to Mexico, where cases have surged. Americans also surpassed earlier 2020 air travel records during the end-of-year holidays, despite the Centers For Disease Control discouraging traveling.
This isn't the first time the Vatican has weighed in on COVID-19. In December, the religious conglomerate declared that it is "morally acceptable" for people to receive COVID-19 vaccines, even though it said some of the vaccines "have used cell lines from aborted fetuses in their research and production process."