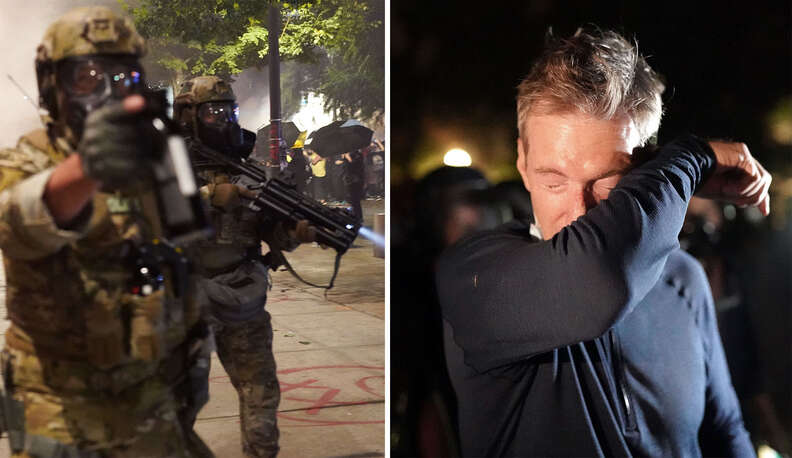 Getty Images – Federal police disperse a crowd of about a thousand protesters at the Mark O. Hatfield U.S. Courthouse on July 20 / Portland Mayor Ted Wheeler reacts after being exposed to tear gas fired by federal officers
Portland Mayor Ted Wheeler was tear gassed by federal officers Wednesday night, as the Trump administration says it's deploying more agents to other U.S. cities including Chicago and Albuquerque.
Wheeler joined a group of demonstrators at the federal courthouse in Portland during another night of protests against the federal officers deployed by the Trump Administration to suppress the enduring anti-racism demonstrations.
Though multiple officials have condemned his administration's deployment of the officers Trump announced Wednesday that he would send hundreds of additional federal agents to other cities in a larger push for law and order.
Attorney General Bill Barr also advocated for federal intervention against local crime during a press conference Wednesday in which he falsely claimed "Operation Legend," a federal anti-crime initiative, has led to hundreds of recent arrests in Kansas City. The wild claim was quickly refuted by outlets including The Kansas City Star, which ran the headline, "Barr claimed feds in KC made 200 arrests in two weeks. That's not even close to true."
Federal law enforcement agencies including the U.S. Marshals Service and U.S. Customs and Border Protection have been rotating officers through Portland since early July, where they have acted aggressively toward protesters, including the "Wall of Moms." Sen. Ron Wyden (D-OR) responded:
One federal officer recently fired impact munition at a 26-year-old protester, leaving him seriously injured, while other federal agents have been filmed pulling demonstrators into unmarked vans without explanation. Local officials, including Wheeler, have condemned their presence in the city and have called for an investigation into them detaining demonstrators in the unmarked vans.
"I can tell you with 100 percent honesty, I saw nothing which provoked this response." Wheeler said after getting tear gassed. "This is an egregious overreaction on the part of the federal officers."
Though Wheeler and the protesters share disdain for the federal officers, the Portland mayor has also been the subject of scrutiny for letting Portland PD tear gas protesters just a few weeks prior. As he joined the crowd on Wednesday night, many demonstrators jeered at him and some threw objects in his direction, The New York Times reported. Wheeler was also asked by demonstrators if he was committed to abolishing the police, to which he responded "no."
"A lot of these people hate my guts," Wheeler said, though he added that they were unified in wanting federal officers gone.
Though the Trump administration dispatched the officers following a June executive order to protect federal monuments, Oregon Public Broadcasting has specified, based on multiple interviews, that the officers have been detaining individuals who weren't near federal property.