Portland Police Block People From Taking Discarded Food From Grocery Store Dumpster After Winter Storm
Portland police clashed with a crowd of people trying to recover food that a Fred Meyer grocery store was forced to dispose of amid power outages.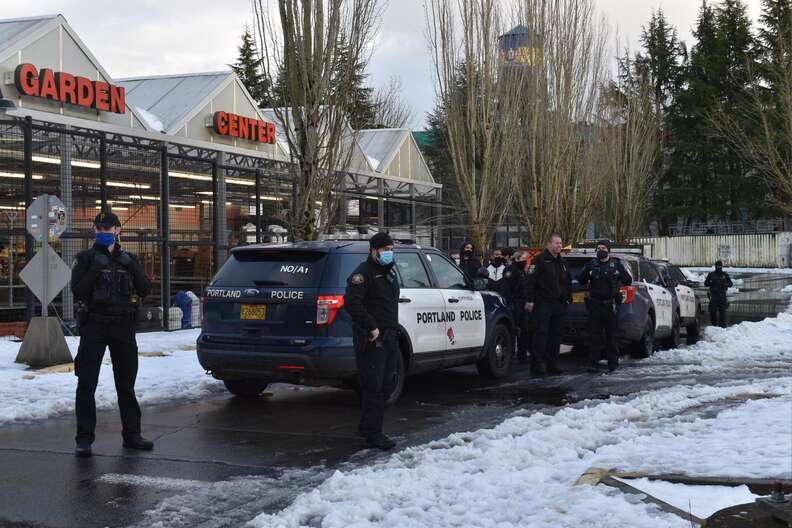 A group of Portland police officers clashed with people who were trying to recover discarded food from a local grocery store after the store lost power. Witnesses said the officers acted aggressively and wouldn't allow people to go inside the store.
On Tuesday, photos were widely shared from the Hollywood West Fred Meyer grocery store in Portland, Oregon, showing police officers guarding dumpsters as people attempted to take store food that had been thrown out. According to police, the grocery store lost power due to the recent severe winter weather that has affected a majority of the U.S., and the staff were forced to dispose of food.
Police said they reported to Fred Meyer after an employee had called twice to report "a group of people arguing with employees and refusing to leave the property." The store employees told police the food could not be donated or consumed because of the lack of refrigeration and said they tried to explain to the crowd of people. Police reported that the crowd grew to nearly 50 people.
According to Portland resident Juniper Leona Simonis, who was on the scene during the standoff, nearly a dozen officers were blocking a crowd of around 10 people from two dumpsters filled with discarded food and were not allowing them to go inside the store. Simonis said they were taking photos of police when officers "called over a manager" and threatened to arrest them.
"[The manager told] me I was trespassing and that they could arrest me if I didn't stop," Simonis told NowThis on Wednesday. "I had to leave the property and move my car a block away. By the time I did, the police had started leaving."
Simonis said after the police left, a group of people returned to the dumpsters to salvage the food either for themselves or to donate. The crowd of people grew to more than 20 within an hour, Simonis said. Several photos showed the dumpsters were full of packages of meat, cheese, beverages, vegetables, and more.
Simonis also said the city "spent its precious resources" on multiple police officers to "threaten a crowd of less than 10 people" instead of putting that money toward food, shelter, and essential supplies. Portland was hit with a winter storm over the weekend, causing extreme damage, including to power lines, knocking out electricity for thousands.
"The store should have worked with the mutual aid organizations that have reached out to them throughout this crisis to hand off the food to those who have the capacity to distribute it to those in need," Simonis said. "The cops were smiling, [laughing], and chatting."
On Tuesday, Fred Meyer responded to people on Twitter saying "some perishable food was no longer safe for donation to local hunger relief agencies."
"Our store team became concerned that area residents would consume the food and risk food borne illness, and they engaged local law enforcement out of an abundance of caution," the company wrote. "We apologize for the confusion."