President Trump Suspends Travel From Most Of Europe for 30 Days Over Coronavirus
The ban is the most serious move yet by the administration to slow the spread of coronavirus.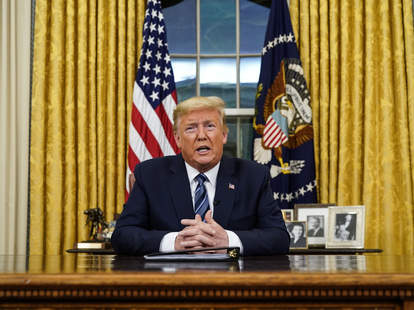 President Trump announced Wednesday night that he is suspending all travel for non-U.S. citizens and permanent residents from most of Europe to the United States for 30 days, starting Friday, March 13 at 11:59 pm. The travel suspension does not include the United Kingdom.
In a televised address from the Oval Office, Trump said he was taking "strong but necessary" actions to slow the spread of coronavirus. So far, the U.S. has confirmed over 1,200 cases, and 36 people have died.
The Dept. of Homeland Security said the suspension applies to foreign nationals who have traveled to one of 26 European countries, known as the Schengen Area, in the last 14 days. It doesn't apply to the UK and Ireland and it doesn't apply to U.S. citizens, U.S. permanent residents, or their spouses and family, among others. You can read a full list of the exceptions in the official proclamation here.
Trump also said health insurance companies will waive all co-pays for coronavirus testing and treatment, but the details of that are unclear — a spokesperson for the lobbying group AHIP said co-pays will be waived "for testing, not for treatment."
The announcement comes the same day the World Health Organization declared coronavirus a pandemic — and two days after Italy's prime minister put the entire country on lockdown in order to stop the outbreak there, the worst one outside of China, with more than 12,000 cases and climbing. As of Wednesday night, 827 people in Italy have died, according to the Johns Hopkins global tracker.
After Trump's announcement, the State Department updated their global travel advisory to level 3, urging all U.S. citizens to "reconsider travel abroad."
Tonight @StateDept raises the worldwide travel advisory to Level 3: Reconsider Travel, due to the coronavirus. The only higher level is level 4, do not travel.

"Even countries, jurisdictions, or areas where cases have not been reported may restrict travel without notice." pic.twitter.com/stHlmDt0lH

— Kylie Atwood (@kylieatwood) March 12, 2020
Watch his statement below:
In addition to the UK, Trump said there will be exemptions for Americans traveling home from Europe "who have undergone appropriate screenings."
Trump was scheduled to travel to Colorado and Nevada later this week for campaign events, and the White House said those events are now canceled.