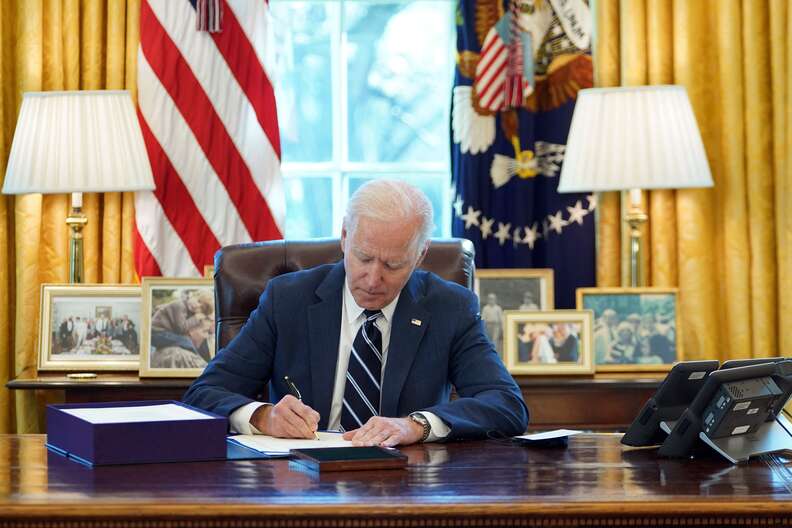 President Joe Biden has signed the American Rescue Plan Act, a $1.9 trillion COVID-19 relief bill that aims to boost vaccination efforts, assist in reopening schools, expand access to health care, and address food and housing insecurities brought on by the COVID-19 pandemic.
The legislation includes a new round of $1,400 direct cash relief, though criteria for eligibility for the stimulus has narrowed. It also extends enhanced unemployment benefits of $300/week until September 6.
In addition to $50 billion in funding for vaccine distribution and disaster relief, the bill also provides $49 billion in funding for COVID-19 testing, tracing, and research. It includes about $12 billion to augment food and nutrition assistance programs, and at least $45 billion in rental, utility, and mortgage assistance, as well as support for the unhoused.
The bill includes $350 billion in funding for state, local, and tribal governments to ensure that they can continue to provide essential services and pay essential workers amid a budget shortfall they say was brought on by the impact of the pandemic. It also includes more than $125 billion in emergency relief funding for elementary and secondary schools to be used to better equip schools for a safe reopening and address learning gaps.
The bill also radically reforms the child tax credit, expanding eligibility and boosting maximum payments, and bolsters the Affordable Care Act through measures to cap maximum premiums for health insurance and issue subsidies for health care for those who were laid off or are working less due to the pandemic.
Now, the federal government faces the logistical challenges of disbursing this aid equitably and quickly, as millions of Americans face the realities of the economic crisis.
Not a single Republican legislator voted for the bill, even though it is supported by 75% of voters, including 60% of Republican voters, according to recent polling from Politico and Morning Consult.