President Trump On Accused Sex Trafficker Ghislaine Maxwell: "I Wish Her Well"
Maxwell was recently arrested and charged with conspiring with late financier and convicted sex offender Jeffrey Epstein to sexually abuse minors in the 1990s.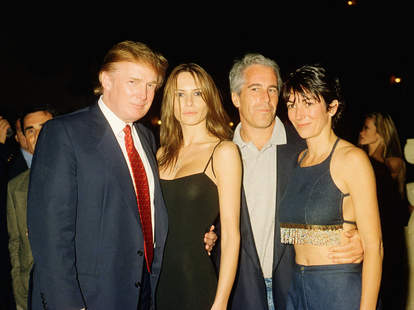 Donald Trump, Melania Trump, Jeffrey Epstein, and Ghislaine Maxwell pose together at the Mar-a-Lago club, Palm Beach, Florida, February 12, 2000
When President Trump was asked at a press conference on Tuesday about Ghislaine Maxwell, the longtime associate of late financier and convicted sex offender Jeffrey Epstein, he said: "I wish her well."
The comments came during what the president said was a coronavirus briefing. A reporter asked what he thought about Maxwell possibly working with authorities to reveal names of other powerful men who have abused underaged girls.
"I don't know, I haven't really been following it too much," Trump responded. "I wish her well, frankly. I've met her numerous times over the years, especially since I lived in Palm Beach, and I guess they lived in Palm Beach. But I wish her well, whatever it is."
The comment immediately drew backlash from many, including politicians from both parties.
"This is unacceptably obtuse for a woman accused of the most morally depraved of crimes, @realDonaldTrump," GOP congressman Chip Roy (R-TX) tweeted on Wednesday. "She needs to be severely punished... and justice must be served for the girls she abused.  For ALL involved."
"Today, Donald Trump sent well wishes to Ghislaine Maxwell, who is charged with procuring underage girls to be sexually abused," Rep. Karen Bass (D-CA) tweeted Tuesday. "Has he sent any well wishes to the families of the more than 140,000 Americans who have died during this pandemic?"
Maxwell, a 58-year-old British socialite, was arrested in early July and charged with conspiring with Epstein to sexually abuse minors in the 1990s. Maxwell has pleaded not guilty to the charges. Last week, a federal judge denied her bail, saying she posed a "substantial" risk of flight before her trial, which has tentatively been set to take place in July 2021, NPR reported.
Epstein was arrested in July 2019 and charged with sex trafficking and conspiracy. He was found dead in his prison cell last August.
Trump and Maxwell have been photographed together in the past, along with Epstein. And though the president has publicly tried to distance himself from Epstein after his arrest, he has also spoken favorably about him in the past. 
"I've known Jeff for fifteen years. Terrific guy," Trump told New York Magazine in a 2002 profile about Epstein. "He's a lot of fun to be with. It is even said that he likes beautiful women as much as I do, and many of them are on the younger side."