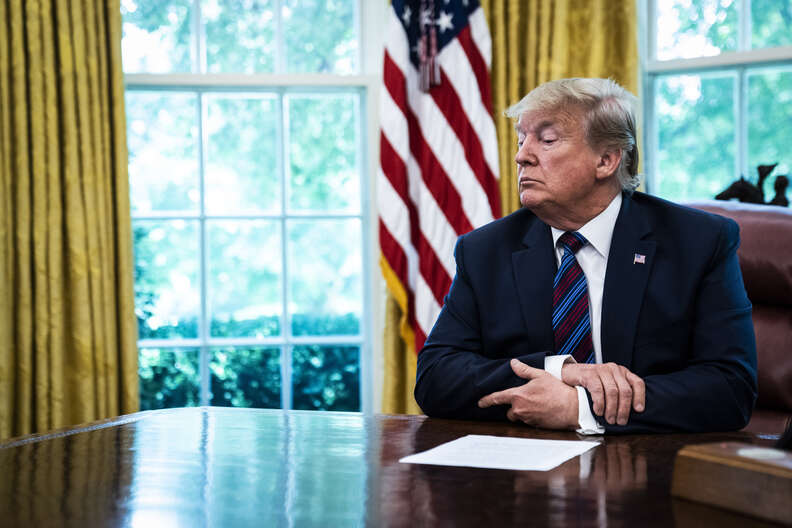 President Donald Trump in the Oval Office in July 2019, when Guatemala signed a safe third country agreement to restrict asylum applications to the U.S. from Central America. It's one of the Trump admin.'s many efforts at restricting legal immigration into the U.S. (Photo by Jabin Botsford/The Washington Post via Getty Images)
President Donald Trump in the Oval Office in July 2019, when Guatemala signed a safe third country agreement to restrict asylum applications to the U.S. from Central America. It's one of the Trump admin.'s many efforts at restricting legal immigration into the U.S. (Photo by Jabin Botsford/The Washington Post via Getty Images)
President Donald Trump, in an executive order late Monday, announced the suspension of some employment-based visas through the end of the year — effectively banning hundreds of thousands of temporary foreign workers from entering the United States.
The Trump administration claimed — without proof — that these temporary foreign workers pose "a risk of displacing and disadvantaging" American workers. The order goes into effect Wednesday.
This policy move, based on the unsubstantiated claim that native-born Americans are losing their jobs to immigrants, comes during historic economic fallout in the U.S. as a result of the COVID-19 crisis, and his administration's struggle to address it. It has drawn criticism from immigration advocates and even some of the president's supporters.
One of the visas targeted by the President in this order is the H-2B, a temporary visa for seasonal workers. These are the same temporary foreign workers that President Trump's businesses have a long history of employing — even during his time in office.
Other employment-based visas suspended by the executive order include: H-1B visas for high-skilled workers, often in STEM fields that America has a shortage of; L visas, for foreign-born employees of U.S. companies that are based outside the U.S.; and J visas, for scholars, exchange programs, and even camp counselors and au pairs in some cases.
"This proclamation ensures Americans are first in line for American jobs as the economy reopens," Acting Secretary of the Department of Homeland Security Chad Wolf — who previously worked for a lobbying group that advocated for H-1B visas — said in a statement. He added that DHS "stands ready to implement this important executive action." The order signed Monday also suspends new green cards for some people outside the U.S. for the rest of the year, expanding temporary immigration restrictions that Trump issued in late April that were set to expire in June. Green cards, a name that references the document's color, are the official identification cards issued to people who've obtained lawful permanent resident (LPR) status in the U.S.
The restrictions will not apply to temporary foreign workers or green card holders already in the United States, according to the president's order.
President Trump — who has centered the country's economic success in his campaign — is now seeking re-election as at least 21 million Americans are unemployed.
Immigrant rights advocates, business leaders, and even some of Trump's most ardent supporters blasted the executive order.
"This is not a COVID-19 response or an economic response," ACLU's deputy director of immigration policy Andrea Flores said in a statement. "It's the exploitation of a pandemic to institute divisive policies and reshape immigration law."
A number of the nation's largest tech companies, who heavily rely on H-1B visas to fill STEM positions because there's a shortage of American workers who have the skills necessary for such jobs, blasted the president's order.
"This proclamation undermines America's greatest economic asset: its diversity," Twitter Vice President of Public Policy and Philanthropy Jessica Herrera-Flanigan said in a statement. "People from all over the world come here to join our labor force, pay taxes, and contribute to our global competitiveness on the world stage."
Apple CEO Tim Cook also spoke out against the president's policy.
One of the president's most vocal supporters, Sen. Lindsey Graham (R-SC), said in a Twitter thread that he believes President Trump's order will "will create a drag on our economic recovery."
The non-partisan Migration Policy Institute estimates the president's restrictions could bar 219,000 temporary foreign workers and their families as well as 158,000 green card applicants from entering the United States through this year.
Critics have said the Trump administration is using the pandemic as an excuse to tighten immigration restrictions — an area that White House senior advisers including Stephen Miller have long focused on. "These immigration bans are more red meat and not jobs for the base," said Rebecca Shi, executive director for the Illinois Business Immigration Coalition, to the New York Times. "They don't even serve Trump's own business interests."