Presidential Hopeful Calls It Quits, Royal Drama & More
Plus plenty of women and POC were snubbed for Oscar noms.
Iranians Call For Accountability Over Last Week's Tragic Plane Crash
Thousands of protesters took to the streets of Iran for the third day in a row to call for accountability over the shooting of a passenger plane that killed 176 people last week. Over the weekend, the Iranian government admitted that it "unintentionally" shot down Ukraine International Airlines Flight 752 because the Aerospace Force thought it was an incoming cruise missile — an admission that came after 3 days of denials. Some protesters called for Supreme Leader Ayatollah Ali Khamenei, who has ruled the country for 30 years, to step down. Iranian President Hassan Rouhani said they "deeply regret this disastrous mistake" and offered condolences and prayers to families who lost relatives in the crash.
He also said
they would "prosecute the perpetrators of this unforgivable mistake" and "address the weaknesses of the country's defense systems to make sure such a disaster is never repeated."
Officials from both the U.S. and Iran are using this to advance their opposing agendas. While Iranian Foreign Minister Javad Zarif (
who tweeted a NowThis video
last week) blamed the mistake on tensions created by the U.S., President Donald Trump said he supports the anti-government protesters. In the ongoing story of Trump's justification for the U.S. killing of Iranian General Qasem Soleimani, he's currently being criticized for claiming that attacks on 4 U.S. embassies were imminent without providing evidence. U.S. Defense Secretary Mark Esper said he hasn't seen evidence to support that, but the fact that Trump "believed that they probably could have been targeting" them was sufficient reasoning for the U.S. airstrikes.
Know This: Who is Mark Esper? We have a podcast episode dropping tomorrow that answers that exact question, delving into his history of working for military companies and more. Listen to "Who Is? The Podcast" here.
Warner Bros Films
Nominations Are Out, And It's #OscarsSoWhite — Again
Oscar noms went out today, and white men got most of them. "Joker" earned the highest number — 11 — in categories including best picture, director, actor, and score. Directors including Greta Gerwig ("Little Women"), Lulu Wang ("The Farewell"), Kasi Lemmons ("Harriet"), Lorene Scafaria ("Hustlers"), and Melina Matsoukas ("Queen & Slim") were key, disappointing snubs for best director. People of color and women were overlooked in several major categories, which drew expected criticism. British Nigerian actress Cynthia Erivo was the sole Black nominee in an acting category, for best actress in "Harriet." Behind "Joker" in award count are largely male-led productions, including "Once Upon a Time... In Hollywood," "The Irishman,"and "1917," a World War I epic.
To further underscore the problem with diversity,
a report released earlier this month
by the USC Annenberg Inclusion Initiative, led by Dr. Stacy L. Smith, found 10.6% of the directors of 2019's biggest box-office earners were women. That's actually a 13-year high; the percentage of female directors across 1,300 films since 2007 is 4.8%. Yet women directors didn't land a single nomination. Read the full list of nominations here.
Know This: While the Academy has attracted positive press in 2019 for aiming to diversify its membership by inviting more women and people of color, the organization remains 68% male and 84% white, according to The New York Times.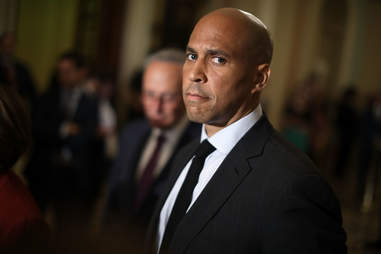 Getty Images
The Leading Dem Candidates Are Now All White
There's #OscarsSoWhite, and there's #DemPrimarySoWhite… Sen. Cory Booker (D-NJ) dropped out of the Democratic presidential primary race this morning, just one day before the next debate and weeks before the Iowa caucuses. His absence from the race means former Massachusetts Gov. Deval Patrick is now the only Black candidate in the race, and the only other people of color are Andrew Yang and Rep. Tulsi Gabbard (D-HI). None of them (including Booker) qualified for tomorrow's debate in Iowa, meaning all 6 candidates on the stage will be white. They are: Sen. Elizabeth Warren, Sen. Bernie Sanders, Joe Biden, Sen. Amy Klobuchar, Tom Steyer, and Pete Buttigieg.
In a statement, Booker said his campaign had reached the point where it needed "more money to scale up," and it's "money we don't have." Watch our 20 Questions with him, where he explained why he decided to run,
here
.
Know This: Some food for thought from writer Rebecca Nagle: "Harris, Castro, now Booker cited money as the reason for suspending their campaigns. While billionaires self-finance their own campaigns, the outsized role of money in politics is leading to a candidate field that doesn't reflect the electorate." In other words: Popular senators like Booker and Harris are out, while billionaires like Steyer and Mike Bloomberg are still in.
Getty Images
After A Week Of Royal Drama, The Queen And Prince Harry Reach An Agreement
After what was described by royal reporters as an "unprecedented face-to-face summit" today, Queen Elizabeth II said they've come to an agreement that confirms Harry and Meghan will split their time between Canada and the UK. The Queen, her son and heir Prince Charles, and his sons Prince William and Prince Harry all met in person today for the first time since the shock announcement from Harry and Meghan last week that they wanted to step back from their duties as "senior members of the Royal Family."
While speculation ran rampant in British tabloids about what was going on behind the scenes, the Queen issued this pretty clear statement today: "My family and I are entirely supportive of Harry and Meghan's desire to create a new life as a young family. Although we would have preferred them to remain full-time working Members of the Royal Family, we respect and understand their wish to live a more independent life as a family while remaining a valued part of my family." She also noted that there will be a "period of transition" and that there's more work to figure out these "complex matters" for the family. One of the biggest questions that remains is what Harry and Meghan will do to wean themselves off public funds, as according to the Queen, they've "made it clear" they do not want to rely on taxpayer money "in their new lives."
Know This: If you're not entirely sure why Harry and Meghan wanted to step back from the Royal Family and spend less time in the UK, these side-by-side comparisons of headlines about Meghan Markle vs. ones about Kate Middleton might do the job. The racism directed at the Duchess of Sussex by the media is clear, as is Prince Harry's desire to "protect [his] family."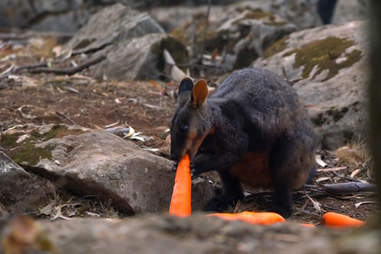 Reuters
Every Country In The World Should Follow New Zealand's Lead
The New Zealand government is offering a climate change curriculum to all schools that teach 11- to 15-year-olds in order to combat young people's "eco-anxiety" over the crisis and make clear the science behind it. It will include "tools for students to plan their own activism," as well as scientific research,
according to The Guardian
.
And here are just a few recent stories that may be inducing said eco-anxiety:
Neighboring Australia's ongoing battle with bushfires — the country's now airdropping vegetables from helicopters to feed animals who have survived that can't otherwise be reached
At least 11 people died after severe storms across the U.S. this weekend
Thousands of people evacuated in the Philippines over fears of a volcanic eruption
The NZ curriculum isn't mandatory, but it's a smart offer that fills a need that teachers have flagged to the government, according to the country's
climate change minister
. (Can we get one of those?)
Know This: Starting an important trend: In September 2020, students in state schools in Italy will be required to have 33 hours per year of courses that incorporate climate change, sustainability, and environmental footprints.

That's it for today — thanks for reading! In case you didn't get your fill of playoff football this weekend, a reminder that LSU plays Clemson in the college national championship tonight. Geaux Tigers!

—Versha Sharma, Louisiana native & Senior Correspondent and Natalie Daher, Multiplatform Writer & Editor