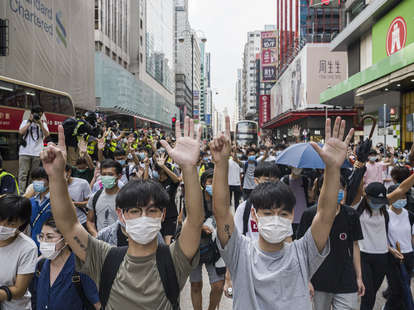 Thousands of pro-democracy protesters in Hong Kong gathered on Wednesday in opposition of national security measures and a controversial national anthem bill that lawmakers are debating in the semi-autonomous city.
Demonstrators gathered in the afternoon and chanted pro-democracy slogans, the Hong Kong Free Press reported.
Police had reportedly set up barriers around the legislative building ahead of the demonstrations and warned protesters in the Central business district that if they didn't disperse, they could be arrested and charged.
Once the protests started, police fired pepper balls into the crowds and arrested over 300 people in the city's Causeway Bay, Central and Mong Kok districts. Officers also rounded up and detained groups of demonstrators before transporting them away on police busses.
The pro-democracy protests in Hong Kong gained momentum last year in opposition of a bill that has since been withdrawn, which would have allowed for criminal suspects to be extradited to mainland China under certain circumstances. In recent months, the protests had paused because of the coronavirus outbreak.
But they began again on May 24 after Beijing announced last week that it would impose national security measures aimed at anti-government protests and other forms of dissent in Hong Kong.
On Wednesday, lawmakers held a second reading of the Chinese National Anthem Bill, which pro-democracy protesters also oppose. According to a report by TIME, the proposed law could allow people who insult the Chinese national anthem "March of the Volunteers" to face up to three years in jail or a fine of 50,000 Hong Kong dollars (approximately $6,450).
Hong Kong first introduced the National Anthem Bill in early 2019, but it didn't progress after the months-long demonstrations started. Pro-democracy Hong Kong citizens and lawmakers claim that that the bill further enables Beijing to encroach on their freedoms. Debate over the bill has also reportedly caused tension as well as heated exchanges between lawmakers.
Debate over the National Anthem Bill is expected to continue through Thursday, the Associated Press reported.
U.S. Secretary of State Mike Pompeo also notified Congress on Wednesday that Hong Kong should no longer be considered autonomous, following China's proposal of the new national security law. The law "targets secession, sedition, terrorism and foreign interference in Hong Kong—but it would be imposed by the government in Beijing, bypassing Hong Kong's legislative process," according to TIME.
"Hong Kong and its dynamic, enterprising, and free people have flourished for decades as a bastion of liberty, and this decision gives me no pleasure," Pompeo said in a Wednesday statement. "But sound policymaking requires a recognition of reality. While the United States once hoped that free and prosperous Hong Kong would provide a model for authoritarian China, it is now clear that China is modeling Hong Kong after itself."