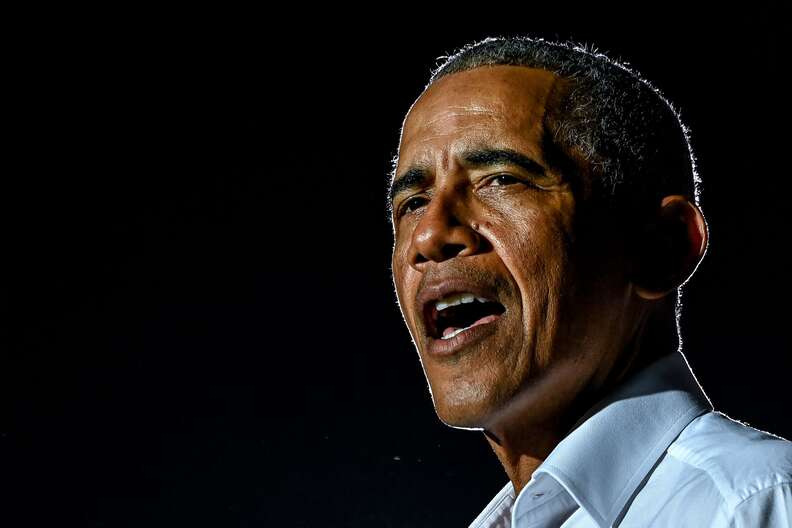 Former President Barack Obama has attracted backlash from progressives after he advised activists to rethink the slogan "defund the police," saying the phrase "lost" them a "big audience."
During an interview with Snapchat's "Good Luck America" published this week, interviewer Peter Hamby asked the former president what advice he would give activists who use the phrase "defund the police," an idea that Hamby said a lot of politicians won't even go near.
"If you believe, as I do, that we should be able to reform the criminal justice system so that it's not biased and treats everybody fairly, I guess you can use a snappy slogan, like 'defund the police,'" Obama said. "But, you know, you lost a big audience the minute you say it, which makes it a lot less likely that you're actually going to get the changes you want done."
Obama continued: "If you instead say, 'let's reform the police department so that everybody's being treated fairly,' you know, divert young people from getting into crime, and if there's a homeless guy, can maybe we send a mental health worker there instead of an armed unit that could end up resulting in a tragedy? Suddenly, a whole bunch of folks who might not otherwise listen to you are listening to you."
After House Democrats lost a significant number of seats in the 2020 election, progressives and moderates have been locked in a debate over how to best reach voters in a country where more than 70 million people voted for President Donald Trump. In audio leaked last month, Rep. Abigail Spanberger (D-VA) criticized the party's progressive left for using terms like "socalist" and "defund the police." Days later, Rep. Alexandria Ocasio-Cortez told The New York Times, after news outlets called Biden's win, "We need to do a lot of anti-racist, deep canvassing in this country."
She added: "I think a lot of Dem strategy is to avoid actually working through this. Just trying to avoid poking the bear. That's their argument with defunding police, right? To not agitate racial resentment. I don't think that is sustainable."
During the Snapchat interview, Obama also pointed out the importance of the Democratic party boosting rising politicians, including Rep. Ocasio-Cortez. He pointed out the Congresswoman had a short appearance at the Democratic National Convention this summer.
"But, you know, the fact that an AOC only got, what? Three minutes or five minutes? When she speaks to a broad section of young people who are interested in what she has to say, even if they don't agree with everything she says, you give her a platform," he said, adding, "just like there may be some other young Democrats who come from more conservative areas who have a different point of view."
He added: "New blood's is always good. And I say that as somebody who used to be the young, shiny cool guy. But now is the gray-haired old grizzled vet."
After Obama's interview was published, Ocasio-Cortez joined other progressives and journalists, many of whom are people of color, in pushing back against the former president's assessment of "defund the police" by tweeting: "The whole point of protesting is to make [people] uncomfortable."