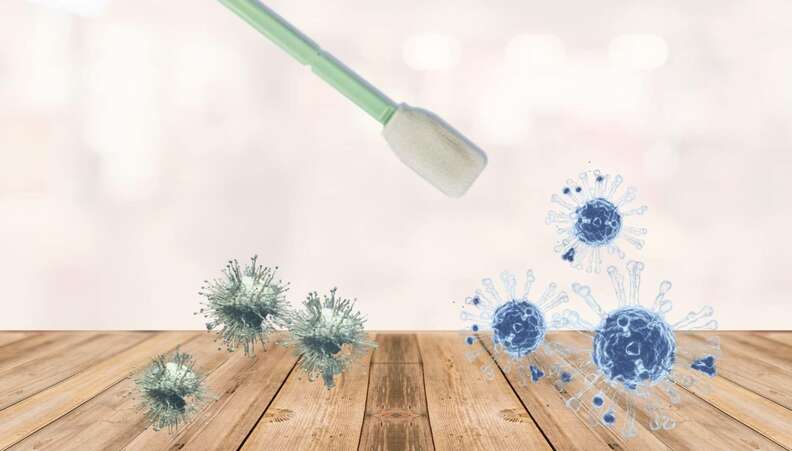 While new COVID-19 vaccines have offered a light at the end of the tunnel for an unprecedented virus that has infected nearly 82 million people worldwide, experts agree that a vaccine alone may not be enough.
While the vaccine is being distributed to older populations and healthcare workers, a biotech company has been using a tracing method in long-term care facilities that has proven to be an additional layer of protection — they're even hoping to soon use it in offices and other shared spaces.
Surface testing is an affordable method that can detect when the COVID-19 virus has entered a building before a person knows they're infected. Surface testing is typically used in food manufacturing and pharmaceutical industries, but biotech company Enviral Tech adapted it to help stop major outbreaks at long-term care facilities.
"We wanted to bring technology that we had been using in the labs for sort of high-tech work, we wanted to bring it out to make it more available on a wider basis," scientist and Enviral Tech founder and CEO Shula Jaron told NowThis in an interview. "We're not looking to say, 'is that surface infectious?' We're looking to see if it's telling a story of what's happening with this group of people."
Jaron said her co-founder Dr. Stephen Turner used preliminary surface testing data collected nearly 10 years ago for the H1N1 virus when it was spreading rapidly and scientists at the time were concerned it would become a pandemic.
"[Turner] had very good results with that work," Jaron said. "He sort of shelved that data that he had collected, and so fast forward to the beginning of this year, we sort of resurrected that data and asked the question of whether we could translate it to COVID."
For months, long-term care facilities have faced the brunt of COVID-19. Vulnerable populations, including people over the age of 65, often live in these facilities and are more susceptible to adverse effects of the virus.
Between May and June, the company conducted a study at more than 50 care facilities across the U.S. by testing high-touch surfaces like doorknobs, railings and computers. Researchers found that they could detect the virus on surfaces and isolate a potential outbreak by tracing who came in contact with that surface or was in that area, all before any person even becomes symptomatic or tests positive.
At the time of Enviral Tech's study, more than 45% of COVID-19 deaths in the U.S. were reported at long-term care facilities, which is why they chose to focus on those facilities.
"We did indeed pick up [COVID-19] in those facilities," Jaron said. "They didn't know they had COVID in those facilities at that time. They were able to turn around really quickly based on our results, and start testing people and identify one or two people in each of those facilities that were asymptomatic."
She continued: "Asymptomatic shedders were shedding virus and it was getting onto these surfaces, and then a week later, about five to seven days later, each of those people became symptomatic. By using the surface testing, we were able to give them an early warning and let them take action before people started showing symptoms."
Why vaccines might not be enough

This month, both Pfizer/BioNTech and Moderna began distributing their COVID-19 vaccines after the Food and Drug Administration issued the pharmaceutical giants emergency use authorization. The first groups to receive the vaccines were healthcare workers and people living in long-term care facilities.
While the vaccine is offering a much-needed layer of protection from the virus, experts warn that it won't completely eradicate it, especially as the virus mutates and adapts — a prediction that recently came true. Last week, a new variant of COVID-19 was first detected in the UK and India and the first case was recently found in Colorado. Experts are concerned that this strain is more contagious.
"Coronaviruses have been with us for a very long time," senior epidemiologist at Unity Band Dr. Charlaynn Harris told NowThis. "This particular type of virus has gotten stronger; it's been able to mutate itself and to change in a way that this time was really it."
Harris added that the vaccine will work as a shield, but it won't eliminate the virus from our environment, adding "[the virus] changes in ways that we don't find out about until it's too late." Which is why, Harris said, other safety measures like surface testing, using personal protective equipment, social distancing, hand washing, and wearing masks will still be important.
"If we're not doing those things, that's increasing the likelihood of exposure," Harris said. "It's that behavior that makes it possible for the virus to succeed."
Because vaccines cannot fully protect everyone — particularly older people whose immune systems are not as effective as they once were, Harris said — surface testing could be an added safety measure, especially at long-term care facilities. Enviral Tech is hoping to use the technology in workplaces and offices, too.
Harris added that the pandemic affecting long-term care facilities so severely was a wake-up call for how they operate and highlighted the deficiencies.
"It does set the process in place of, let's never let this happen again and what can we do moving forward to not only ensure that a form of immunity is in place and as many of us who can receive vaccines are compliant, but also that there's routine cleaning of surfaces, ensuring that there's education amongst staff in a frequent and consistent manner so that it does not become a second thought, but rather second nature," Harris said.
Jaron believes that surface testing technology can be used "in conjunction" with other infection control measures to curb the spread. Enviral Tech has now provided surface testing to more than 150 facilities, and Jaron said they're hoping to expand and make it widely available.
"We need to remember that we can't let our guard down," Jaron added. "We can't stop taking the precautions that we've been taking. Because these precautions are so instrumental in helping to keep this from being worse than it is."