Proud Boys Leader Was Arrested Over Burning Of Black Lives Matter Banner At A Violent Rally
Enrique Tarrio was arrested just days before conservative groups plan to storm Washington D.C. and protest President-elect Joe Biden's win.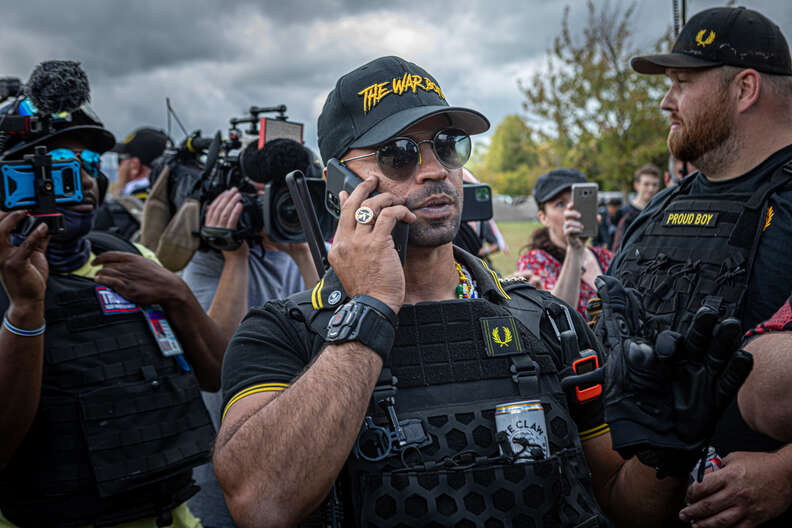 Proud Boys leader Henry "Enrique" Tarrio attends a rally on September 26, 2020, as a state of emergency was declared in Portland, Oregon.

| Getty Images
Proud Boys leader Henry "Enrique" Tarrio attends a rally on September 26, 2020, as a state of emergency was declared in Portland, Oregon.

| Getty Images
The leader of far-right group the Proud Boys was arrested Monday for allegedly lighting a Black Lives Matter banner from a historically Black church on fire during a Washington D.C. rally that turned violent last month.
D.C. police arrested Enrique Tarrio, 36, on Monday, a spokesperson told NowThis. Tarrio was charged with destruction of property after he was shown in photos and video lighting a banner on fire during a pro-Trump rally on December 12. Police had a warrant out for his arrest for destroying the banner, but also charged Tarrio with two counts of possession of a high capacity feeding device, court records show, after officers found two high-capacity firearm magazines that are meant to hold additional bullets for a gun, while arresting him.
Tarrio was released on Tuesday and was ordered to stay out of D.C. except for court appearances. According to reporters who were present at the hearing, he was released without bond.
Tario heads the far-right Proud Boys, which the Southern Poverty Law Center classifies as a hate group, whose members support President Trump. They have appeared at extremist rallies and members have been linked to racist, anti-Semitic, and misogynistic rhetoric.
Roughly 200 members of the all-male Proud Boys reportedly attended the December 12 rally in Washington D.C. to protest the election results and Trump's loss. Police made dozens of arrests, and at least four people were stabbed.
Tarrio admitted in a post on social media site Parler to tearing down a Black Lives Matter banner and lighting it on fire. The banner belonged to Asbury United Methodist Church, a historically-Black church.
"Against the wishes of my attorney, I am here today to admit that I am the person responsible for the burning of this sign," Tarrio wrote on Parler. "The burning of this banner wasn't about race religion or political ideology it was about a racist movement that has terrorized the citizens of this country."
D.C. police said last month they were potentially pursuing hate crime charges for the suspects responsible for burning the Black Lives Matter banner.
Tarrio's arrest on Monday comes just two days before Congress is set to formally certify President-elect Joe Biden's win. According to USA Today, multiple conservative and far-right groups are set to protest Tuesday and Wednesday and applied for permits for the rallies. Trump said in a tweet he would be attending one of the events on Wednesday.
USA Today also reported that Tarrio said on Parler that instead of being grouped together in their usual black-and-yellow clothing, The Proud Boys will be "incognito" and "spread across downtown DC in smaller teams."
According to multiple reports, the D.C. National Guard will assist the Metropolitan Police Department in monitoring the rallies this week, which could potentially turn violent as they did last month.
Correction: An earlier version of this article stated that Tarrio's arrest came one day before Congress formally certifies President-elect Joe Biden's win. The information has been updated to reflect that it came two days before the certification.