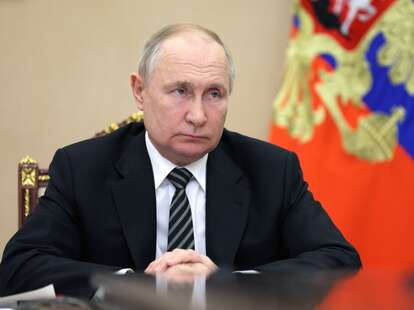 This pool photograph distributed by Russian state owned agency Sputnik shows Russia's President Vladimir Putin chairing a government meeting via a video link in Moscow on October 25, 2023. (Photo by GAVRIIL GRIGOROV/POOL/AFP via Getty Images)
This pool photograph distributed by Russian state owned agency Sputnik shows Russia's President Vladimir Putin chairing a government meeting via a video link in Moscow on October 25, 2023. (Photo by GAVRIIL GRIGOROV/POOL/AFP via Getty Images)
Unconfirmed reports began spreading online on Monday regarding the health of Russian President Vladimir Putin. The rumor, first published by Sky Australia and numerous other foreign outlets, said Putin suffered a heart attack before being resuscitated and that the incident caused widespread concern about his health in the Kremlin. And while, two days later, those rumors are still just that — rumors — the surrounding conversation has at least gotten loud enough to actually compel the Kremlin to publicly deny them.
While there's still a lot of uncertainty about Putin's health IRL, this week's headlines do raise the interesting question of what Russia would look like if the president were to suddenly die. And how would a post-Putin Russia handle the war in Ukraine and relations with America? NowThis spoke to Michael Cecire, a senior policy advisor with the Commission on Security and Cooperation in Europe, to answer a few of our most burning questions.
First, let's talk about who could succeed Putinif he unexpectedly died. The most important thing to understand is that, inside the Kremlin, there are three main factions: the security officials, the oligarchs, and the legal/politician types. These three cliques work almost like political parties, warring for influence and Putin's ear. And historically, the security agencies, like the GRU and FSB, have always had the most power in Russia, so they're the obvious choice.
"It's safe to say that succession is unlikely to be straightforward. That doesn't necessarily mean that it can't be relatively peaceful, but there is hardly a clearly designated heir apparent to Vladimir Putin," Cecire said. "It's also worth noting that two of the strongest power centers previously in Putin's inner circle, Wagner loyalist-turned-insurrectionist Yevgeny Prigozhin and Chechen strongman Ramzan Kadyrov, are now dead and reportedly in grave physical health, respectively."
And what about the ongoing war in Ukraine? Would removing Putin increase the likelihood of peace or cause further instability? According to Cecire, a new leader could, at the very least, be tempted to reduce the scale, ambition, and/or commitment to the war — if only for a short time.
"This has been an unquestionably and objectively ruinous war for Russia, and a powerful threat to Russia's economic, social, and even political stability," Cecire told NowThis. "So at the very least, new leadership would certainly have to be tempted to end or at least cut back its commitment to the war both as a resource-revitalization case and to differentiate themselves from the Putin regime. That said, the tendencies of imperial strategic culture in Russia are powerful and longstanding, so it is unlikely that Russia's broader territorial appetites would be curtailed so much as temporarily withdrawn to win concessions from the West and allow for regeneration."
A third question is how a sudden lack of Putin could affect Russia-U.S. relations. Cecire said it's likely the leaders of a post-Putin Russia would try to mend fences with the West — out of economic self-interest, if nothing else. "There will be strong factions in the West, particularly among certain business elites, that will be eager to see the restoration of something approaching a status quo ante in relations with Russia," he said.
However, the sheer scale of the humanitarian damage wrought by the Ukrainian invasion is already too great to be walked back. "While more peaceable relations would be a genuine opportunity for stability, there really can be no going back amid the wreckage of Russia's genocidal invasion of Ukraine and campaign of aggression throughout the region," Cecire said.