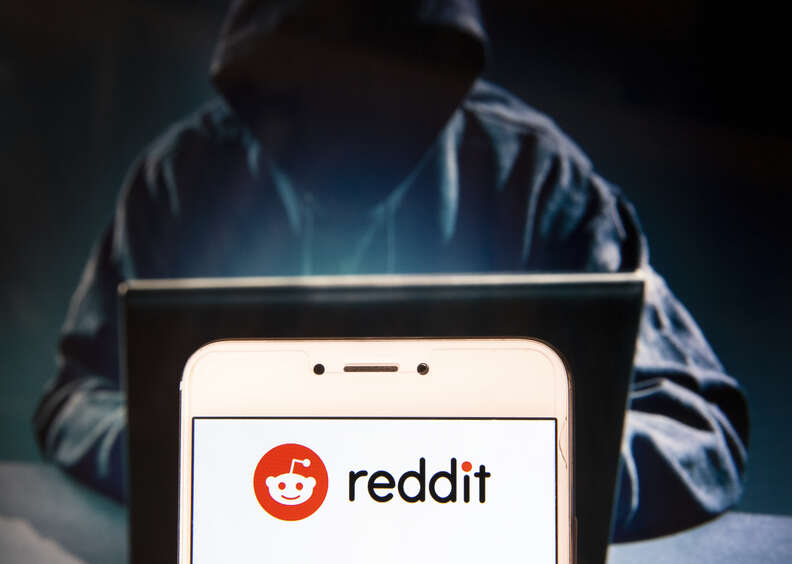 Getty Images
Getty Images
Two popular LGBTQ+ subreddits experienced a prolonged series of attacks at the end of April. The volume of the attacks, and the effort to contain them, galvanized over 100 subreddit moderators to co-sign a letter to Reddit asking the company to significantly improve its response for when such attacks occur.
The attacks, also known as brigades, start when a group of users coordinate on a subreddit or a different website to infiltrate another subreddit, where they make derogatory comments, report credible content as spam, and manipulate votes on posts so harmful content is more visible. Brigades create a nightmare scenario for moderators, the Reddit users that volunteer to make particular subreddits safe by monitoring their activity, banning unwanted users, and sifting through reported content.
The brigade that attacked r/lgbt and r/nonbinary started on April 19. Users on these subreddits began recieving transphobic and homophobic comments on their posts, and in some cases, threats of death or encouragements of suicide.
Aimee Knight, one of the moderators of r/lgbt, told NowThis that this brigade was one of the biggest and most obvious ones she had seen in her nearly four years as a moderator. Knight said she and three of her co-moderators stayed up all night of the 19th dealing with the fallout from the brigade by manually removing posts and comments flagged by users and automatic safety bots. The brigade lasted until April 22.
On a busy day, Knight said r/lgbt's moderators might have to deal with only 200 flagged items. But throughout this days-long brigade, the moderators of r/lgbt banned 473 users, and removed 1,403 posts and 11,323 comments.
NowThis was unable to get the same numbers of removed posts, comments, and users from the moderators of r/nonbinary. But in order to contain the brigades there, the moderators had to restrict posting for its users until at least April 22.
A third subreddit, r/actuallesbians, was also affected by the brigade, but a moderator of that subreddit told NowThis that the brigade's effect on them was minimal compared to r/nonbinary and r/lgbt.
Beyond being logistically onerous, brigades can have an emotional toll.
"It is very difficult because you're looking at a lot of comments, reports, and posts telling you that you shouldn't exist, that suicide's the better option, that you should go kill yourself, that you're a tranny freak, or you're a faggot, or that all dykes need is a bit of dick," Knight said.
Knight also said she suspects the volume of this brigade might be related to lockdowns issued globally in response to the coronavirus pandemic.
"Millions of people are at the moment relying on the Internet to communicate, and that also applies to the people who are stupid on the internet looking for what they consider a bit of a laugh," Knight said. "They are driven online to spread this hate to try and elicit a reaction."
Taking a public stance
Normally, moderators work with Reddit behind closed doors to work on safety issues, but the brigade at the end of April made Knight want to take a public stance. On April 24, she penned a letter to Reddit about the attacks on LGBTQ+ subreddits and how the brigade reveals shortcomings with the website's reporting tool.
Users report content they deem objectionable to reddit.com/report, after which they receive an automatic reply saying the community team will investigate. Knight described Reddit's reporting tool as "robot-like."
"As moderators, we were getting frustrated at the system which sees us only receive an automatically generated message when these situations occur. There is no 'human element,' and there is very little help available during the brigades to help stem the flow."
The letter makes a series of demands, including that Reddit permanently ban users and take action against subreddits that participate in the brigades. It also asks that the website communicates with moderators whose subreddits are being targeted.
"This letter is not against individual Reddit Staff," the letter reads. "But we are concerned and stressed out at Reddit's organizational approach."
The letter was co-signed by 124 moderators of other subreddits, including some that aren't LGBTQ+-focused. Knight said the breadth of support blew her away.
What is Reddit doing to prevent this from happening again?
A Reddit administrator responded to the letter on the same day, outlining the actions the website had taken to "tamp [the brigade] down." In their response, the administrator said Reddit has suspended users and moderators responsible for the brigade, banned subreddits, and restricted others that were not operating in line with the website's moderator guidelines.
r/DarkHumourandMemes, the subreddit from which the brigades appear to have primarily originated, was suspended until May 8. In a post welcoming the community back, a moderator of r/DarkHumourandMemes said the moderator team has been revamped and that the subreddit must heed to a new set of rules. One of those rules is that anything racist, sexist, or homophobic will be removed, and the offending user may be banned.
"We do not want to provoke the events that caused this ordeal in the first place," the post reads.
Knight said Reddit's response was the first human interaction the moderators had with the website's community team since the brigade started.
"It shouldn't take 125 moderators coming together and openly saying, look, this isn't good enough to get that human response," Knight said.
The Reddit administrator apologized that the community team didn't reach out to the moderators directly to communicate the actions they were taking. Reddit's response also contained a list of commitments it would make to prevent future brigades of this scale, including improving their communicating with moderators when brigades occur.
A Reddit spokesperson told NowThis that it uses "engineering solutions" and human review to enforce their site-wide policies, which prohibit threatening content and behavior as well as harassment and bullying.
"We are always evolving our approaches to detect malicious and coordinated activity and will continue to be transparent with our community on these issues," the spokesperson said.
The spokesperson also said that Reddit is updating how it addresses ban evasion, which is when a user who is banned from a subreddit uses an alternative Reddit account to continue participating in that subreddit. Ban evasion also refers to subreddits being repurposed to serve the same function as a previously banned subreddit. The update will be shared in the coming weeks. Reddit did not provide any further details on what the update will entail.

How the lockdowns are affecting LGBTQ+ people
The coronavirus lockdowns have forced many LGBTQ+ people to move back to homes where they might not be accepted. LGBTQ+ support lines have seen an increase in activity since the lockdowns started. According to Forbes, The Trevor Project, a non-profit which supports LGBTQ+ youth, said the amount of people reaching out to them has doubled since the pandemic began. The LGBT Foundation, a national charity based in England, said it has also seen calls spiking during the health crisis.
"We are seeing some young LGBT teenagers trapped in their homes with abusive parents and not even school to provide respite, trans people no longer being able to live as the gender they identify due to family pressures, as well as people in same-sex relationships isolated with their abusive partner," the chief executive of the foundation, Paul Martin OBE, told Forbes.
From March 14 to May 9, nearly 40,000 subscribers joined r/lgbt, a number which Knight said surpasses subscriber numbers during the same period last year. Though she acknowledged that there could be many contributing factors, Knight said this influx in subscribers reflects that the coronavirus lockdowns are driving LGBTQ+ people to find online communities.
"We have seen users who have had to come out during this time, to parents, to people they live with who might not be family, and who, many of have had positive reactions and we've been celebrating those. We've been trying to offer that support and signpost towards more local support for users who are not so lucky, who have faced hostility for coming out," she said.
Finding harmony
Knight said she's optimistic about working in tandem with Reddit to prevent brigades from happening in the future. Her public letter and Reddit's response isn't the first time r/lgbt and Reddit have come together on an issue. For example, on March 31, Trans Day of Visibility, r/lgbt took over Reddit's Public Access Network, also called RPAN, to make trans Reddit users more visible sitewide.
"I think [that] really reinforces that we can work together with Reddit," Knight said. "It's a case of we want to keep working together with Reddit and to give our users the opportunity to be seen and to be heard."
Since the incident at the end of April, there haven't been any brigades of equal size, so Reddit hasn't had a chance to follow through on its commitments. But Knight said she expects to see an increase in hostile activity during Pride month and during the upcoming 2020 presidential election.