Quinta Brunson Got Back at Jimmy Kimmel With This Post-Emmys Photo Op
Quinta Brunson made history at the Emmys; however, some viewers felt her big moment was overshadowed by Jimmy Kimmel.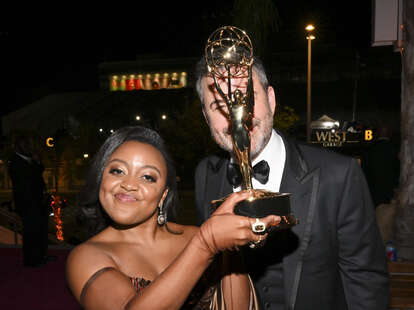 Quinta Brunson made history as the second Black woman to win an Emmy for Outstanding Writing for a Comedy Series on September 12. However, some viewers felt her big moment was overshadowed by Jimmy Kimmel, who pretended to lay drunk at her feet for the duration of her acceptance speech, as part of an earlier gag during the show. Now, it appears Brunson put Kimmel in his place in a photo taken later that evening.
The two posed together for a photo at an Emmys afterparty, with Brunson covering Kimmel's face with her award. Brunson, who is smirking in the photo, hopefully got the last laugh.
In her backstage interview after winning the award, Brunson told reporters that Kimmel's bit didn't bother her, but she might feel differently in the morning. "Tomorrow maybe I'll be mad at him. I'm going to be on his show on Wednesday, so I might punch him in the face," Brunson said. "I don't know what happens."
While Brunson might not be upset about Kimmel's stunt, the internet didn't take it so lightly. One Twitter user said, "The "dead Jimmy Kimmel" bit was mildly funny, then incredibly ill-conceived when he kept doing it while Quinta Brunson was trying to celebrate a career high point." Another posted, "If #QuintaBrunson stepping over #JimmyKimmel who literally laid in her spotlight on the day she won an Emmy isn't a metaphor for what it means to be a WOC in a white mans world I don't know what is."
Brunson is scheduled to be a guest on "Jimmy Kimmel Live!" on September 14, so we'll see if a conversation about the stunt continues.