Radio Host Fired After Video Shows Her Yelling At Landscapers To "Speak English"
Dianna Ploss, an ardent Trump supporter, posted a Facebook Live video that showed her asking landscape workers if they were "illegal."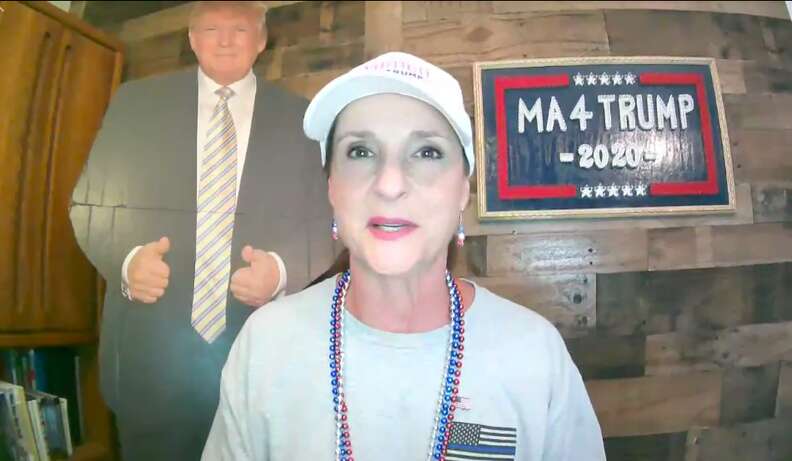 A conservative radio host was fired after she live streamed herself going on a racist rant and yelling at landscape workers who she said were speaking Spanish.
Dianna Ploss was a host of the Dianna Ploss Show on WSMN 1590 in Nashua, New Hampshire. She recorded herself on Facebook Live last Friday while she verbally assaulted several workers on the street, yelling at them to speak English and asking if they were "illegal." The video of the confrontation has attracted hundreds of thousands of views.
The radio station took action two days later after more than 12,000 people signed a petition demanding she be fired. The radio station said in a statement on Sunday that Ploss "is no longer associated or affiliated in any way with WSMN or Bartis-Russell Broadcasting, LLC."
"We at WSMN value freedom of speech, freedom of expression and assembly," WSMN continued in the statement. "We will not tolerate discrimination, racism or hatred."
Ploss, an ardent supporter of President Trump, doubled down on her comments on Monday. She posted another Facebook Live video posing in front of a Trump 2020 sign and a large cut-out of President Trump. She called out the "commies" and "leftists" who want to "shut us down" and "destroy our country." In a separate post, she said she's "not backing down."
"You have not silenced Dianna Ploss," she said in the video. "Patriots, we have a country to save."
In the video that led to her firing, Ploss recorded herself yelling at men while they were working and continuously asking them if they're speaking English.
"You speaking English?" She asked the workers. "Ok, but it is America. It is America, you should be speaking English… They work for the state, you should be speaking English."
Ploss goes on to repeatedly yell, "English, english, english" at the men. Ploss then asks, "Is anybody here illegal? Are these guys illegal?"
Ploss asked the workers what company hired them and showed the truck with the company name on camera.
"Your tax dollars up here in New Hampshire, that's what's going on here," Ploss said. "So now they have people who don't speak English who are putting in this stuff that taxpayers are paying for and look what they're doing. This is communism."
"Wake up," Ploss continued. "I want to know, where's Governor Sununu?"
A man who was wearing a mask appeared on camera approaching Ploss after at least one minute of her continuous ranting. As he approached, Ploss said, "What's your problem?" The man then said to her, "Why are you harassing them?"
The two argued on camera, and Ploss continuously asked the man whether the workers spoke English. She also said she has "a right" to ask the workers about the language they spoke and asked the man, "how am I harassing them?"
"You're yelling at them while they're doing their job," the man said. "I can hear you from across the street. I'm trying to enjoy my lunch."
She then asked the man why he was wearing a mask and called him a "social justice warrior," then went on another rant.
"He's a Black man, and he's gonna protect the brown man from this white woman who's practicing white privilege because she happened to walk by and heard this guy talking to all of these guys, doing this work, in Spanish," Ploss said to the camera.
The landscaping company that the men work for posted a statement thanking the community for its support after the "unfortunate incident."
"The numerous phone calls, social posts, emails, voice messages and overall kind words are extremely encouraging and heartfelt," Tom Morin wrote on Morin's Landscaping page. "I believe that we can all take immense pride in how quickly the community rallied to demonstrate that this type of behavior is completely unacceptable and will not be tolerated."
Morin also thanked his team and the bystander who "handled this challenging situation with the utmost of class and professionalism."