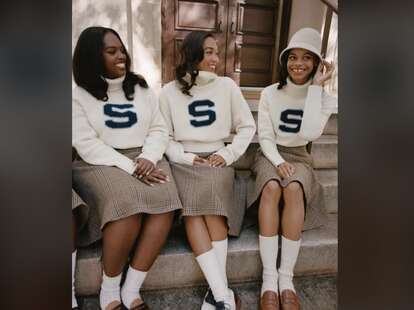 Fashion label Ralph Lauren unveiled a special partnership with alumni from two Historically Black Universities last month, Spelman College and Morehouse College.
James Jeter, a graduate of Morehouse College and director of concept design and special projects at Ralph Lauren, teamed up with colleague Dara Douglas, an alumna of Spelman College who currently sits as brand and product lead at Ralph Lauren, to spearhead the project, designing an exclusive wardrobe that invoked traditional HBCU fashion trends.
In a press release announcing the historic collaboration, Executive Chairman and Chief Creative Officer Ralph Lauren said that it's meant to share "a more complete and authentic portrait of American style and of the American dream — ensuring stories of Black life and experiences are embedded in the inspiration and aspiration of our brand."
The memo also added that the collection honored the first time the label produced a campaign with an all-Black cast, "predominantly comprising students, faculty and alumni at both institutions."
Amid 2020's Black Lives Matter demonstrations, the fashion brand made a commitment to "deeply examine bias" across the company, and pledged to include Black models in at least 20% of marketing and advertisements.