Ramadan looks different this year for more than a billion people around the world who observe it. No one's gathering for communal iftars, mosques are closed, nightly prayers have been canceled, and most people are either in quarantine, working in essential businesses, or saving lives on the front lines. The communal aspect of the month-long celebration feels unattainable.
But through this loss, many Muslims are rethinking their priorities and shifting their focus inward. Here's what a few NowThis staffers had to say after the first few days of fasting:
Amna Ahmad, Producer
My oldest memories of Ramadan are being woken up to the smell of my mother making suhoor — the buttery smell of parathas, fried eggs, and kebabs. My older brothers who were up earlier would play pranks waking the youngest. We'd share a laugh, break bread, and prepare to fast for the day.
As I grew older, both of my parents worked longer hours, and Ramadan became a tradition mostly between my brother and me, with my parents returning late from work. We both went to college, our paths diverged, but this was a tradition that we stayed true to, albeit independently. Ramadan was less about a spiritual journey and more about a connectedness with kin.
Due to the coronavirus pandemic, we've returned to our roots, at home, with my mother and father, waking up once more to the smell of my mother preparing suhoor.
Jasmine Amjad, Supervising Producer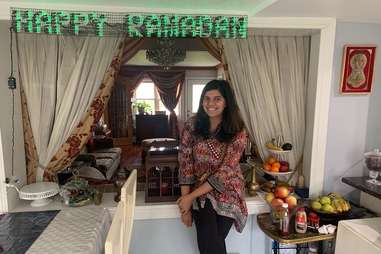 Ramadan definitely hits differently this year.
Usually I would feel a sense of nervous excitement as we head into the month. For me, Ramadan is so rooted in family and community. Gathering for iftar at the kitchen table with all my siblings, going to the masjid for nightly prayers, suhoor at a 24-hour IHOP, and breaking fast with my extended family and friends makes it feel like Thanksgiving every night for 30 days. It's a huge reason why this is my favorite time of the year.
This year, I couldn't help but feel a bit down. My siblings are in their own homes or are quarantined because they're in the medical field. My dad is stuck in Pakistan and we've been trying to get him on a flight back home. My kitchen table during suhoor and iftar just consists of my mom and me. What was once a table covered in our favorite dishes now only has two plates — a simple dinner with a bit of fried food (Ramadan isn't complete without samosas in my eyes) and FaceTime calls with the family.
I have to remind myself that food, family, and community aren't all this month is about. It's supposed to be a spiritual reset and a time to be charitable. Even though this isn't the Ramadan I'm used to, I'm still #blessed that I even have food on my table, get to be with my mom, and speak to my family daily. I plan on spending the rest of the month bettering myself as a Muslim and a human being and continuing to make the most of it as best as I can.
Fanta Camara, Human Resources Business Partner
With the world on pause during Ramadan, we are learning and finding new ways to connect, be motivated, and practice good deeds. Outside of us not being able to congregate at the mosque for taraweeh prayer, or breaking fast with our families and neighbors, there is still so much we are able to do from the safety of our homes.
On top of observing Ramadan in one of the most unique times, I am also a new mom. Both bring their distinct opportunities, but I believe the power of intention and being present has never been more important.
I have already begun to do things I haven't done during previous Ramadans. I started a personal dua journal inspired by Omar Suleiman's "Prayers of the Pious." It has grounded and connected me in a new, sincere way. I have listened to sermons from several Islamic institutes that have been inspirational and educational.
Being a mom is such a blessing. It has been difficult being present because of remote work. But I get to really be present with my son Ishmael during the weekend, and I felt immense gratitude. It is so easy to be overwhelmed and anxious during this time, but understanding things that are in our control, being intentional about what we choose to do with our time, and showing gratitude for our many blessings makes all the difference.
Zahra Haider, Producer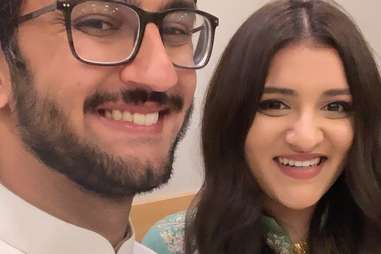 A few months ago, I looked forward to the holy month as an opportunity to celebrate and grow my faith with new friends in Washington, D.C. and spend valuable time with family ahead of Eid. Now, a part of me feels that the essential beauties of this month have been torn from us.
My partner and I are celebrating over two years of marriage, and Ramadan has been a formative part of our experience together. We have bonded over our differing traditions, experienced a beautiful community at the local mosque, and challenged ourselves intellectually with spiritual discussions. Being unable to partake in many of our customs has been difficult to process.
But in light of changing times, I hope to turn a new page in our journey. A chapter that will comprise a fresh growth that is often taken for granted and might otherwise go decades untapped. The kind that is what Ramadan has truly been about all along. One in which sacrifice, reflection, and self-discipline are a rising anchor of our belief this year.
The isolation that is so unexpected may very well be what we needed to take a step back. I pray that this Ramadan, we are able to rekindle our convictions and acknowledge our growth as Muslims. In our rapidly moving world, perhaps slowing down is exactly what we need to be once again with God.
Aliya Karim, Social Publisher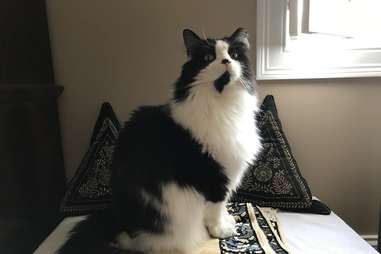 The first weekend of Ramadan, I found out that a friend's parent died from COVID-19. I can't imagine what they've experienced, and I wish I could be there for them. But continuing to social distance, sending condolences from afar, making dua, and supporting those in need is really all I can do.
I've been thinking a lot about my privilege — the privilege to leave one of the country's epicenters, to be safe and sound with my family, to still have a job that I can continue from home, to have some financial stability. I'm lucky to be spending this month with my loved ones. There are many people who are hard at work at the front lines, grieving those lost, or completely alone. The beauty of experiencing this blessed month together as an ummah, breaking fast and praying side by side, is now out of reach.
But this has been a reminder that Ramadan and our faith are just as much about focusing on our personal growth as they are about spending time with others. This is a time of reflection on ourselves, our lives, our relationship with God and other people, our mortality. And often, that reflection is only possible when we're alone. We need to reflect now more than ever, for the sake of taking care of one another.
Adnan Khan, Producer
For the first time in years, I am experiencing Ramadan with my parents. I ended up quarantined with them when statewide lockdowns went into effect. Usually, my seharis before sunrise are zombie moments in my NYC apartment, standing over the sink stuffing my face, and my iftars consist of me rushing home after work to prepare my food, breaking fast after sunset alone. In the midst of a pandemic, I have had the blessing to start and end my daily fasts with my parents.
For me, this is the silver lining. In all the chaos going on in the world, I get to spend a month of reflection, discipline, and reinstate devotion to my faith with the company of my parents. I could not be more blessed.
Working in news, I am very cognizant of the pressure and pain that families around the world are experiencing due to the coronavirus. In some ways, I think Ramadan couldn't have come at a better time. I believe these new protocols and restrictions can inspire Muslims to look beyond the nightly festivities and instead look inside themselves for personal reflection and agency to help each other in these times.
I hope as the month continues, we look outside ourselves and rejoice in what will come once the dust settles. Eid al-Fitr is not going to be the usual, but I hope that we truly become grateful for our precious families, friends, and our own lives in this time.