Recent "Constitutional Carry" Legislation in Texas Facilitated and Expanded the Ability To Carry a Gun
60% of Texans were opposed to the notion of permitless carry.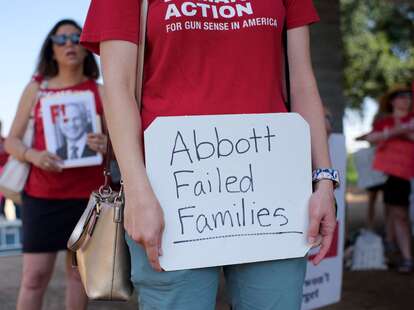 In the wake of yesterday's mass shooting that claimed the lives of 19 children and two adults in Uvalde, Texas, many individuals have singled out a drastic law implemented in September 2021 by Gov. Greg Abbott (R), allowing anyone over the age of 21 in the southern state to carry a handgun in most places without a permit or training.
Couching the premise of the law in a citizen's right to self-defense, Abbott tweeted on September 1, 2021, "Texas safeguards the 2nd Amendment. Today, Constitutional carry goes into effect. Texans who legally own a gun are now allowed to carry it in public. No license or training is needed."
The Houston Chronicle reported that the gunman involved in the Robb Elementary shooting purchased an AR-15 style rifle one day after his 18th birthday — long guns such as rifles and shotguns can be purchased at age 18 in Texas, and were allowed to be carried without a permit prior to House Bill 1927.
A 2021 poll from the University of Texas and the Texas Tribune indicated that nearly 60% of Texans were opposed to the notion of permitless carry. The Texas Tribune reported, "Conversely, voters showed strong support for requiring criminal and mental health background checks for all gun purchases. Seventy-one percent of voters supported the policy, while only 21% opposed. Bills on that subject were not passed by the Legislature despite bipartisan support from 88% of Democrats and 61% of Republicans."
Former Rep. Beto O'Rourke (D-TX) interjected during Abbott's news conference in Uvalde today, labeling Abbott and his gun policies culpable for the deadly shooting. "This is on you," he said, adding, "You said this was not predictable? This is totally predictable when you choose to do anything." O'Rourke is running against Abbott for governor of the Lone Star State.