Black Women and Bodily Autonomy: Reflecting on Juneteenth Amid a Reproductive Health Care Crisis
"When you empower Black women, everyone else benefits."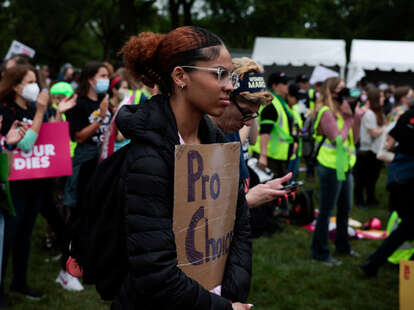 When considering how Americans should commemorate and reflect on Juneteenth, especially in the second year since it's been recognized as a federal holiday, it's pivotal to consider the multifaceted perspectives associated with it.
Specifically, amid an ongoing reproductive health crisis prompted by a Supreme Court draft suggesting that Roe v. Wade will likely be overturned, the second official celebration of Juneteenth finds a unique position in the plight of Black women.
Black women have historically not had the same reproductive freedom as other people. They continue to face unique and significant barriers in receiving abortion services and are three times more likely to die during childbirth than white women. Additionally, deeply entrenched socioeconomic inequity is the primary reason many Black women seek abortions. Therefore, if Roe is indeed overturned, it could have significant consequences for many of these women and their families.
Angelica Geter, chief strategy officer at the Black Women's Health Imperative — the oldest organization in the U.S. dedicated solely to the health and wellness of Black women and girls — spoke with NowThis about how the impending dismantlement of abortion rights, specifically as it pertains to Black women, finds critical relevance in this year's Juneteenth celebration.
Offering broader thoughts on the holiday itself, Geter said, "Not only is Juneteenth about the liberation of enslaved people in the United States, but it's a time for us to reflect on the long-term effects of systemic racism, which is totally ingrained in our society. It's not just a holiday for Black America, it's a day for action as we progress toward liberation."
Geter also acknowledged the slew of stringent abortion laws that have been enacted in recent months, calling it "a movement backward, against bodily autonomy that could create additional health disparities for Black women." She said, "We also know that slavery's legacy extends beyond conventional health services that Black women may seek. The stress of racism and gender-based discrimination is leading to heart disease, depression, and anxiety, and has an impact on our maternal health."
Additionally, she spoke about the "numerous and disproportionate threats" facing Black women in regard to Roe v. Wade, saying, "Our health care system impacts their access to quality care and truly diverse and culturally empathic caregivers. When we think about who is going to be affected by Roe being overturned, we know it's women of color. Our families will suffer financially and professionally."
Geter emphasized that continuing the conversation is a crucial and fundamental aspect of Juneteenth. "It's really a time to focus on the call to action — to collaborate, to partner, to move back toward that conversation of racial equity, whether it be Roe v. Wade, public health, safe streets, gun violence, etc," she said. "It's all relevant to the way systemic racism is inherent in the legacy of slavery in our country. It's not only a celebration, but also a time to learn, reflect, and take action." Addressing systemic change is essential to protecting Black women everywhere. As Geter asserted, "When you empower Black women, everyone else benefits."