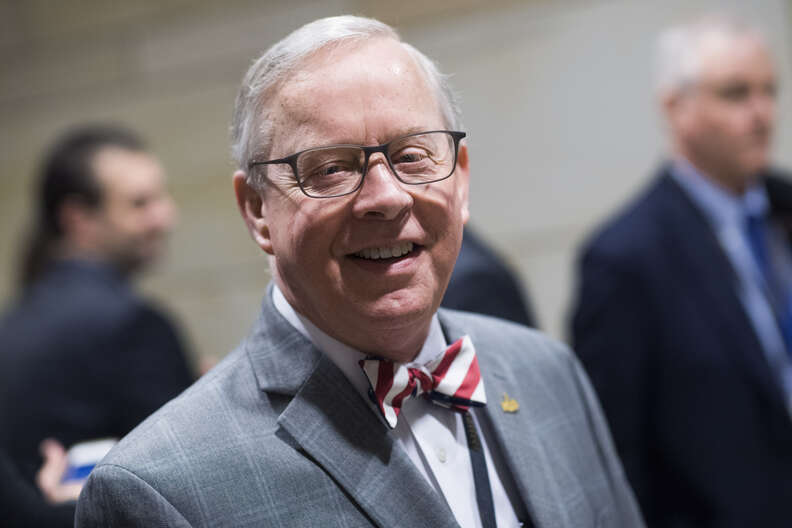 Rep. Ron Wright (R-TX), 67, died on Sunday after being hospitalized with COVID-19 last month, his office announced. The lawmaker is the first sitting member of Congress to die of the virus.
On Monday, Wright's office said in a statement to multiple outlets that he and his wife Susan had been admitted to Baylor Hospital in Dallas two weeks ago after they contracted COVID-19. On January 21, Wright announced in a statement that he had tested positive for COVID-19 "after coming in contact with an individual with the virus" and was experiencing symptoms.
According to his office, over the last few years, Wright had been treated for cancer. He was serving his second term as a representative in the sixth district of Texas.
"As friends, family, and many of his constituents will know, Ron maintained his quick wit and optimism until the very end," Wright's office said. "Despite years of painful, sometimes debilitating treatment for cancer, Ron never lacked the desire to get up and go to work, to motivate those around him, or to offer fatherly advice."
Several other leaders responded to the news of Wright's passing including Rep. Beth Van Duyne (R-TX), Rep. Liz Cheney (R-WY), and Rep. Bob Latta (R-OH):
In December, Congress member-elect Luke Letlow, a Republican of Louisiana, died of COVID-19 shortly after winning the election for Louisiana's fifth congressional district. According to the New York Times, more than 60 members of Congress are known to have tested positive for COVID-19 since the beginning of the pandemic.