Republican Voters Remain Skeptical Of Vaccine Even As Hesitancy Declines Across U.S.
Recent polls found that while many Republicans said they do not plan to get a COVID-19 vaccine, many Americans have become less hesitant about the vaccines in recent months.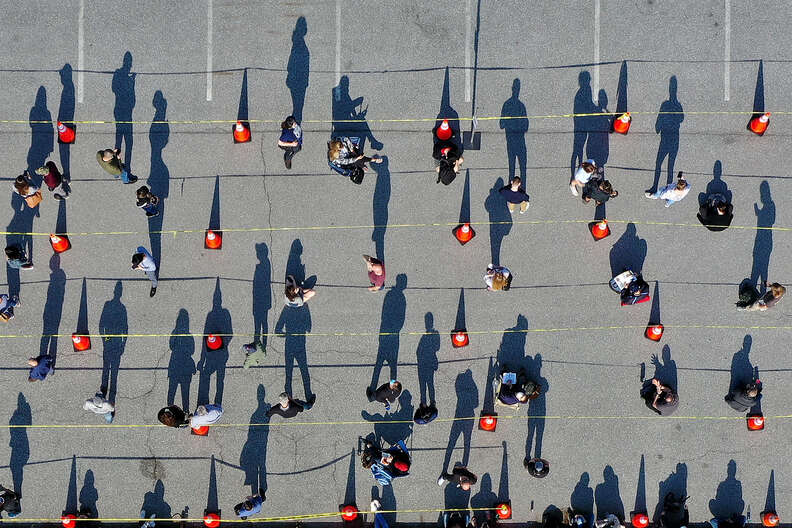 While vaccine hesitancy across the U.S. has declined in recent months, multiple polls show Republican voters still claim they won't get the COVID-19 vaccine — posing a significant challenge to how quickly the country can achieve herd immunity.
43% of Republicans claim they will not get the COVID-19 vaccine, according to a Monmouth University poll released Wednesday. The same poll found 5% of Democrats and 22% of independents said they will not get the vaccine — compared to 21% of people overall.
A poll by NPR/PBS NewsHour/Marist published in March found similar hesitancy specifically among Republican men; nearly half of them said they would not get the COVID-19 vaccine. Those figures mark an uptick from earlier data, including a Kaiser Family Foundation poll in February that found nearly one-third of Republicans said they would "definitely not" get a vaccine.
Some reasons for hesitancy among GOP voters could include former President Trump's history of downplaying vaccine efficacy (Trump has not shared a photo of himself getting vaccinated, while four other living former presidents appeared in an ad promoting vaccines); "a general distrust of government," one public health expert told The New York Times; and misinformation about COVID-19 vaccines that proliferates on conservative networks including Fox News.

Good news: Vaccine hesitancy is declining overall

Overall, vaccine hesitancy has dropped in recent months as the three FDA-approved vaccinations became more readily available, and polls find more Americans are willing to get the jab.
Notably, the Monmouth poll found people who in previous months said they would wait to get vaccinated until others go first has dropped from 21% in March to 12% as of mid-April; the number of people who said they'll never get a vaccine dropped to 24% from 21% in previous months. Another poll from The Economist and YouGov also saw a decrease in the number of people unwilling to get the vaccine from January to April.
The Monmouth poll matches a similar one conducted by Quinnipiac University and published on Wednesday, which found that roughly 27% of people said they will not get the vaccine.
"The number of people who have been skittish about the vaccine has dropped as more Americans line up for the shot, but the hard core group who want to avoid it at all costs has barely budged," Patrick Murray, director of the independent Monmouth University Polling Institute said.

The potential sources of vaccine hesitancy

The Quinnipiac and Monmouth polls both noted that they surveyed participants before the Centers For Disease Control and Prevention and FDA recommended pausing distributing the Johnson & Johnsons vaccine "out of an abundance of caution" after six people reported blood clots. It's unclear whether the blood clots are related to the vaccine, and the six cases are out of nearly 6.8 million people who have received the vaccine.
"The recent news about J&J vaccines is probably not going to help that situation," Murray continued. "On the other hand, it might not make it all that much worse since much of this reluctance is really ingrained in partisan identity."
Some prominent figures in conservative media have questioned the efficacy of the COVID-19 vaccines or refused to get them, including Fox News' Tucker Carlson and political commentator and radio host Glenn Beck. At least three Republican senators have also yet to get the vaccine, according to multiple reports; they are Sens. Rand Paul (KY), Ron Johnson (WI), and Mike Braun (IN).
Earlier this week, leading infectious diseases expert Dr. Anthony Fauci referred to a Carlson segment that suggested COVID-19 vaccines aren't working as a "typical crazy conspiracy theory." Fauci added that comments like Carlson's are "certainly not helpful to the public health of this nation."
"I don't want to get into arguments about Tucker Carlson but to me it's just, you know, it's counter to what we were trying to accomplish to protect the safety and the health of the American public," Fauci said.



More promising data shows the shots actually work

The CDC released data to several outlets this week that found roughly 5,800 vaccinated people have tested positive for COVID-19 out of the more than 77 million people who are fully vaccinated, according to CNN. Only 7% of those infected required hospitalization, and 1% died. While breakthrough infections after vaccination are rare, they can happen after all vaccinations, since vaccines are not 100% effective at preventing infection.
"We see this with all vaccines in clinical trials," Fauci said during a White House press briefing on Monday. "And in the real world, no vaccine is 100% efficacious or effective, which means that you will always see breakthrough infections regardless of the efficacy of your vaccine."
Fauci noted that breakthrough infections after vaccination can occur due to a number of reasons including age, immune status, a person's health, medications, or improper storage of the vaccine. He also said immunity could "fade over time," or a person could be exposed to a different variant of the strain.
"Even if a vaccine fails to protect against infection, it often protects against serious disease," Fauci added.