Republicans Are Cancelling Coca-Cola After Company Denounced Georgia Voting Law
Coca-Cola's CEO last week publicly criticized Georgia lawmakers for the passage of the Election Integrity Act of 2021, which restricts voting access.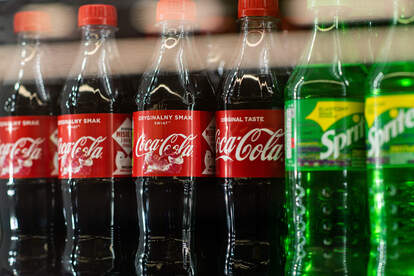 Republican lawmakers are boycotting Coca-Cola after the company publicly condemned a recent Georgia law that tightly restricts voting access.
Over the weekend, conservative Georgia state legislators sent a letter to Coca-Cola, which is based in Atlanta, claiming it "seeks to intentionally mislead the citizens of Georgia" by criticizing the state's Election Integrity Act of 2021, also known as SB202, passed in March. The letter requested that Coca-Cola remove its products from the lawmakers' offices.
Like hundreds of bills across the U.S., the Georgia law fits into Republicans' broader attempt to restrict voting rights in the wake of President Joe Biden's victory and Donald Trump's widely debunked claims of electoral fraud.
"Given Coke's choice to cave to the pressure of an out of control cancel culture, we respectfully request all Coca-Cola Company products be removed from our office suite immediately," the Georgia lawmakers' letter read.
According to the Atlanta Journal-Constitution, Coca-Cola has for decades provided free products to lawmakers in both Georgia and Washington, D.C.
The lawmakers' letter came after the Coca-Cola Company's CEO and chairman James Quincey released a public statement last week saying the company was "disappointed" in Georgia's voting law.
"Throughout Georgia's legislative session we provided feedback to members of both legislative chambers and political parties, opposing measures in the bills that would diminish or deter access to voting," Quincey wrote. "We all have a duty to protect everyone's right to vote, and we will continue to stand up for what is right in Georgia and across the U.S."
At the end of 2020, Coca-Cola employed more than 3,500 people at its Atlanta-based location, according to the Atlanta Business Chronicle.
In a state that has faced claims of voter suppression that disproportionately targets Black voters, Georgia's new voting regulations include stricter processes for voting by mail. Millions of people nationwide chose that method of voting in 2020 due to the COVID-19 pandemic.
According to the bill's text, voters will have a shorter window for casting their absentee ballots, and fewer drop-off locations will be available. Voters will also be required to show identification to vote by mail, instead of using signature matching, which civil liberties groups have long decried as discriminatory. The new law notably disallows people from offering food or beverage to voters waiting in line. President Biden has condemned the law as "Jim Crow in the 21st century."
Many activists and nonprofits have criticized the new regulations imposed under the law, and called out officials who "rejected facts and embraced fear-mongering and conspiracy theories." They also pointed out that the bill would disproportionately affect people of color.
Coca-Cola isn't the only major organization to openly oppose Georgia's voting law; Major League Baseball announced last week it would relocate the 2021 All-Star game and the MLB draft out of Atlanta in response to the bill. Delta Airlines, whose largest hub is in Atlanta, also expressed disappointment in the law.
Georgia Gov. Brian Kemp (R) went on a Twitter rant last week about the MLB pulling out of Atlanta, claiming the organization had caved "to the lies of the woke left" and said: "They may be afraid of Joe Biden and Stacey Abrams, but I'm not." At the Texas Rangers' home opener on Monday, Gov. Greg Abbott (R) Gov. Abbott was invited to throw the opening pitch, but declined because of MLB's decision on its All-Star Game.
Senate Minority Leader Mitch McConnell (R-KY) said Tuesday that corporations should "stay out of politics," but not "political contributions." Sen. Rand Paul (R-KY) also expressed support for boycotting Coca-Cola in an interview on Fox News.
Also last week, more than 70 Black executives signed an open letter, calling on corporations to take a "non-partisan stand for equality and democracy."
"The stakes for our democracy are too high to remain on the sidelines. Corporate America must support our nation's fundamental democratic principles and marshal its collective influence to ensure fairness and equity for all," the letter read.
But voting rights activist Stacey Abrams argued in a recent USA Today op-ed that while corporate boycotts have proven to work at changing legislation, that actions like the MLB pulling the All-Star game could cost Georgia millions of dollars in lost revenue.
"Instead of a boycott, I strongly urge other events and productions to do business in Georgia and speak out against our law and similar proposals in other states," Abrams said. "They should also intentionally hire the targets of SB 202 — young people, people of color and minimum wage workers who want to elect leaders to fight for their economic security."