WHO IS Rick Caruso
Everything you need to know about the real estate mogul running for LA's next mayor.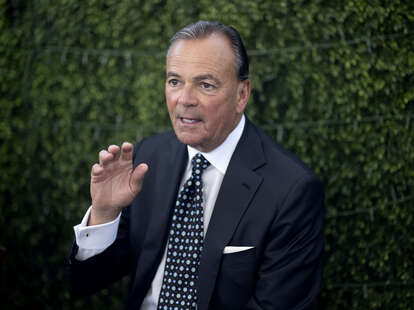 What do Kim Kardashian, Elon Musk, and Snoop Dogg all have in common?
A lot of money. Yes. But it's also one guy — Rick Caruso.Rick Caruso has big plans to become Los Angeles' new mayor. He's heading toward a runoff in November against sitting U.S. Rep. Karen Bass. He was endorsed, along the way, by great political minds like Snoop Dogg, Katy Perry, Gwyneth "Goop"
Paltrow, Elon Musk, and Kim Kardashian, people who have a combined net worth of what looks like a USPS tracking number and just as many followers to get the word out about their favorite rich mall boy.
So what's his deal?
Well, his deal less than three years ago was being a Republican. He held fundraisers at his home for the campaigns of Mitt Romney and George W. Bush. Caruso also donated nearly a million bucks to anti-abortion organizations and politicians like John Kasich, Kevin McCarthy, and Mitch McConnell.
But less than a month before jumping in the race, Caruso registered as a Democrat.
With that, he also became a vocal proponent of abortion rights, writing on Twitter after Justice Samuel Alito's draft opinion was leaked, "As your mayor, I will vigorously protect a woman's right to choose. "
The real centerpiece of Caruso's campaign seems to be "cleaning" up the streets of LA by expanding the police department, proposing to add 1,500 officers during his first term. Caruso's campaign website suggests he's keen to eradicate homelessness from LA, and he's hoping his souped-up PD will help him realize his dream.
So that's Rick Caruso, a Republican real estate developer turned Democrat at the eleventh hour. A smart move considering Los Angeles has only had one Republican mayor since 1961.