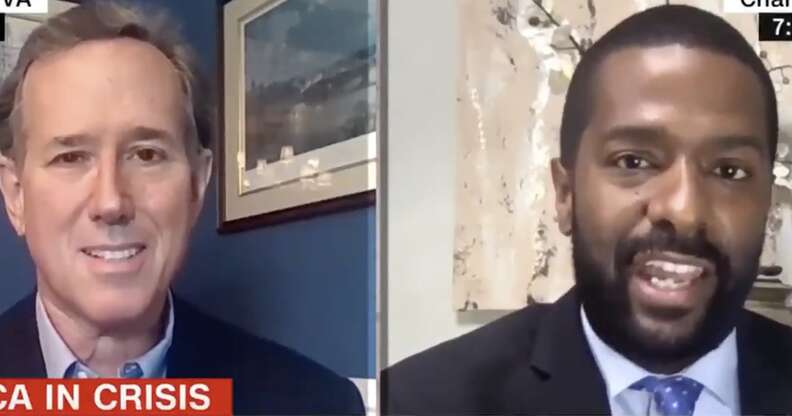 CNN/ Rick Santorum and Bakari Sellers
CNN/ Rick Santorum and Bakari Sellers
Former Sen. Rick Santorum (R) on Tuesday tried to compare women who get abortions to enslavers — and promptly got called out for it.
Santorum appeared on CNN Tuesday with anchor and former Fox News host Alisyn Camerota, along with politician and author Bakari Sellers. During a discussion about whether certain monuments across the U.S., including those depicting the Founding Fathers, should be removed, Sellers encouraged that "historical context" be applied to them, like the fact that Founding Father and first U.S. President George Washington was an enslaver.
"It's hard for me to reconcile a man's greatness and their inhumanity," Sellers said. "And so while people want to rain praise on George Washington, I think it's a more complicated discussion, because I cannot reconcile his greatness and also him owning other human beings. For me, that is something I simply cannot do."
Santorum then interjected, "I consider myself pro-life … I have a hard time reconciling people who are allowing people to be killed in the womb, but you know what, I do, and we all do. And we all have to reconcile things that we have differences about."
Sellers then called out Santorum's claim, saying that "slavery and abortion are not the same thing," while Santorum insisted that they are.
"That's like apples and bobcats," Sellers said, to which Santorum replied, "No, it's not."
"There's nothing the same about slavery and abortion," Sellers said. "If there is a mother who is about to die, or if she is raped or the victim of incest, and she makes a decision, Rick, that's not the same thing as being [dragged] over here against your will."
Viewers were quick to call out Santorum's irrational comparison, while praising Sellers for calling him out.
Clarification: An earlier version of this story described enslavers in different terms. The article has been updated.