Roe v. Wade Is in Danger of Being Overturned by the Supreme Court: Here's What You Can Do
NowThis' official resource guide amid the ongoing fight for reproductive rights.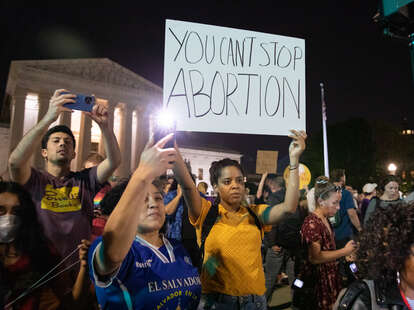 Abortion and reproductive rights are in danger. Over the course of the past year, and well into this year, Republican governors have been ramping up efforts to ban abortion across their state lines. Mississippi, Texas, Florida, and Ohio have introduced restrictive abortion laws, and now, the decision has finally come knocking on the doors of the Supreme Court. A leaked draft majority opinion written by Justice Samuel Alito, states that the Supreme Court will vote to strike down Roe v. Wade, which would undo all guaranteed federal constitutional protections for abortion rights.
If the Supreme Court officially overturns the 1973 landmark decision, America's most vulnerable populations will be at risk. According to a study published by the American Journal of Public Health, people in lower socioeconimic groups have higher abortion rates. The results of the ruling would disproportionately prevent people from low-income households from receiving abortions due to financial restrictions and limited travel options.
For many, this could mean being forced to carry unwanted pregnancies to full term or potentially seeking unsafe alternatives to termination.
If you're wondering how you can get involved and take action, NowThis has a roundup of resources below:
Protests and demonstrations have been key to bringing about change throughout history. If you're not sure where your local rally is, you can follow a host of organizations that will coordinate rallies throughout the week.
The Women's March is a great resource to follow for regular protest information. They called on pro-choice supporters to rally at their local federal building, town hall, or town square today at 5 p.m. In a recent Twitter post the group said, "We're showing up to defend abortion rights, say bans off our bodies, and demand elected officials take action before the right-wing justices on the Supreme Court overturn Roe v. Wade."
You can also follow Rise Up 4 Abortion Rights on Instagram and Twitter. The group will be holding protests in Los Angeles, New York City, Atlanta, Austin, Chicago, Detroit, Philadelphia, Dayton, and Honolulu today, and over the course of their national week of action between May 8-14.
Twitter and Instagram hashtags, like #protest paired with your own state (i.e. #nyprotest) are a great way to find various demonstrations taking place in your area. Also make sure to follow activist groups and independent organizers such as Sasha Neha Ahuja, The Raging Grannies Action League, and more that post rally spots and times.
Social media can mobilize millions. Help ongoing efforts by countering misinformation and spreading messages of change on platforms like Twitter, Instagram, TikTok, and Snapchat. Use hashtags like #RoeVWade #reproductiverights #abortionishealthcare and #mybodymychoice to amplify your message and connect with others.
To avoid misinformation, you can also follow NowThis' official Instagram, TikTok, Snapchat and our website for further ongoing developments surrounding Roe v. Wade.