Ron DeSantis' Admin is Blocking an AP African American Studies Course in FL
Florida continues to assert itself as the state "where woke goes to die," reason be damned.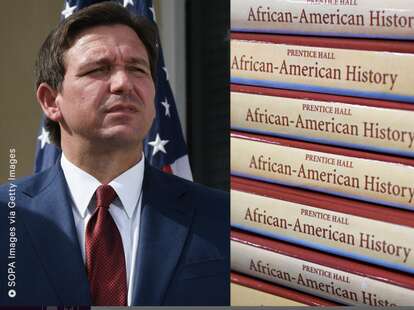 Photo Credit: Getty Images
Florida Republican Gov. Ron DeSantis' administration is blocking the College Board from launching its much-anticipated Advanced Placement course on African American Studies for high school students in the state.
His administration claimed that the course "significantly lacks educational value" and that its curriculum violates the state's Stop WOKE ACT, a 2022 law that bars schools and workplaces from "subjecting any student or employee to training or instruction that espouses, promotes, advances, inculcates, or compels such individuals to believe specified concepts constitutes discrimination based on race, color, sex, or national origin."
DeSantis famously referred to Florida as the state "where woke goes to die" during his November 2022 reelection speech.
According to the Miami Herald, the state's Department of Education did not make clear what, specifically, about the course violates the 2022 act. Instead, the department said in a letter that they will be open to discussions on a course that is deemed lawful.
"This political extremism and its attack of Black History and Black people, is going to create an entire generation of Black children who won't be able to see themselves reflected at all within their own education or in their own State," tweeted Shevrin Jones, a Florida state senator whose district comprises neighborhoods in the Miami metro area.
Jones also tweeted out a list of other history courses that are allowed in Florida schools, including: AP European History, AP Art History, AP Japanese Language & Culture, AP German Language & Culture, AP Italian Language & Culture, and AP Spanish Language & Culture.
An AP course on African American Studies has been in the works for more than a decade, and its forthcoming rollout has received widespread media coverage in outlets like the New York Times and Washington Post. It is the first AP African American Studies course of its kind for high school students across the country. The course focuses on "vital contributions and experiences of African Americans" in literature, the arts, political science, geography, and science, according to the College Board.
Per the National Review, this is believed to be the first-time a state government "has refused to approve a College Board Advanced Placement course of any kind."