WTF Is Going On With Rudy Giuliani's "Borat" Hotel Room Scene?
Sacha Baron Cohen has made a career out of tricking people into stunts, and the wave of reactions to Giuliani's caught-on-camera hotel room appearance was a clearly assumed intention.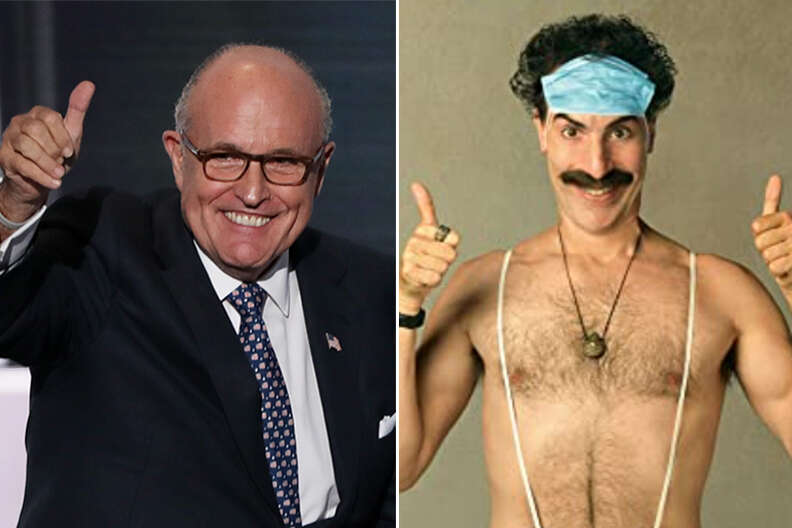 Was Rudy Giuliani caught with his pants down? Well, not technically… but it's complicated.
On Wednesday, reports (and screenshots) surfaced that the former mayor of New York City was caught on camera reaching into his pants while on a hotel room bed in front of a woman whom he believed was a reporter. The prank scene was part of an elaborate set-up by Sacha Baron Cohen for his upcoming "Borat" sequel.
Cohen weighed in Thursday on the controversy with a Twitter video in character as Borat:
Cohen has made a career out of recording himself as characters tricking people into various stunts, and the flurry of social media reactions over Giuliani's caught-on-camera appearance was the clearly assumed intention.
According to various reporters who have viewed the film, in the set-up, Giuliani, 76, is lured to a hotel room under the guise of an interview with a journalist about the Trump administration and the coronavirus pandemic. Giuliani is the president's personal lawyer.
The woman is a 24-year-old actress named Maria Bakalova who ends up pretending to be Borat's daughter Tutar — which the viewer realizes after Cohen, as Borat, storms into the room wearing pink underwear and shouts, "She's 15. She's too old for you!" and "She's my daughter. Please, take me instead."
Images from the scene show Giuliani sitting on a bed while Bakalova stands in front of him. He is also seen laying down on the bed and subsequently reaching into the front of his pants. It is not clear why Giuliani was reaching into his pants, but many surmised it was to unzip them or touch his genitals, while others suggested he was just adjusting his shirt or fixing his microphone. Some noted that Giuliani, regardless of what he was doing, was under the accurate impression that the woman in the room was an adult.
Giuliani swiftly defended himself Wednesday after screenshots and purported transcript of the scene surfaced, saying the "Borat video is a complete fabrication. I was tucking in my shirt after taking off the recording equipment. At no time before, during, or after the interview was I ever inappropriate. If Sacha Baron Cohen implies otherwise he is a stone-cold liar."
Giuliani also reiterated that he called the police after the hotel room run-in to report what happened.
In an interview with Page Six in July, Giuliani described the scenario and said, "This guy [came] running in, wearing a crazy, what I would say was a pink transgender outfit … It was a pink bikini, with lace, underneath a translucent mesh top, it looked absurd. He had the beard, bare legs, and wasn't what I would call distractingly attractive." Giuliani also said he "thought this must be a scam or a shake-down, so I reported it to the police."
Giuliani continued his self-defense by slamming the movie stunt as "an effort to blunt my relentless exposure of the criminality and depravity of Joe Biden and his entire family," a baseless accusation that Giuliani and President Donald Trump have been pushing ahead of the 2020 election.
The movie, fully titled "Subsequent Moviefilm: Delivery of Prodigious Bribe to American Regime for Make Benefit Once Glorious Nation of Kazakhstan," is set to be released on Amazon Prime on Friday.