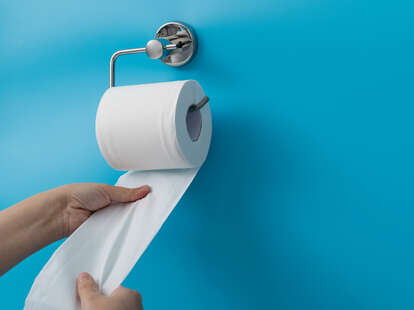 Researchers tested toilet paper brands from all over the world and detected toxic PFAS "forever chemicals" in all of them, according to a new study published in Environmental Science & Technology. When the contaminated toilet paper is flushed and sent to sewage treatment plants, it could lead to water pollution.
PFAS, short for polyfluorinated substances, are also known as "forever chemicals" because they don't break down naturally. According to the U.S. Environmental Protection Agency, they're linked to several serious medical issues, such as an increased risk of cancer, decreased fertility, lower immune system effectiveness, liver disease, kidney disease, developmental delays in children, and much more.
PFAS aren't uncommon and have been detected across a wide array of consumer goods, such as clothing, cleaning products, and cosmetics.
Researchers tested 21 different toilet paper brands from North America, Europe, Africa, Central America, and South America. They also looked at wastewater sludge from 8 wastewater treatment plants in Florida and found PFAS in all of them.
According to the study, the PFAS compound most common in toilet paper and sewage is called 6:2 diPAP. It makes up 91% of all the PFAS detected in toilet paper and 54% of all PFAS detected in sewage. While the study didn't name the brands tested, researchers said that even brands that used recycled paper had similar amounts of PFAS as those that didn't.
"Our results suggest that toilet paper should be considered as a potentially major source of PFAS entering wastewater systems," researchers wrote.
The study was primarily concerned with contaminated toilet paper impacting waterways and didn't investigate the potential effects of using toilet paper that contained PFAS on skin; however, PFAS can potentially be absorbed through one's skin.
"I'm not rushing to change my toilet paper and I'm not saying that people should stop using or reduce the amount of toilet paper they use," Jake Thompson, the study's lead author, said. "The issue is that we're identifying another source of PFAS, and it highlights that the chemicals are ubiquitous."