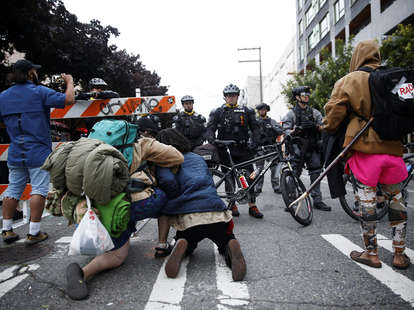 People kneel in front of a line of Police officers on bicycles as Seattle Police retake the Capitol Hill Occupied Protest (CHOP) area, including their East Precinct, in Seattle, Washington, on July 1.

| Reuters
People kneel in front of a line of Police officers on bicycles as Seattle Police retake the Capitol Hill Occupied Protest (CHOP) area, including their East Precinct, in Seattle, Washington, on July 1.

| Reuters
The police-free protest zone in Seattle that has drawn the ire of President Trump was raided by police on Wednesday morning after thousands of people have occupied it since early last month.
Seattle Mayor Jenny Durkan issued an emergency order for cops to clear out the zone due to "unlawful assembly," a week after she announced a forthcoming shutdown along with Police Chief Carmen Best.
The city's police arrived in riot gear to clear out a stretch of several blocks that's been dubbed "CHOP," or the Capitol Hill Organized Protest area. Seattle police said that at least 23 people were arrested during the dispersal.
Seattle police were supported by local FBI and the Bellevue police department, the Seattle Times reported.
Protesters have occupied the zone since early June, when police vacated a precinct in the area and demonstrations over the death of George Floyd swept the nation. The New York Times has described CHOP as "part-commune, part-street festival," and the scene has been reminiscent of the 2011 Occupy protest.
Early Wednesday, a Twitter account that appears to be associated with the zone wrote: "It's time to officially end the #Seattle #CHOP. We're commanding all protestors to leave Capitol Hill and let normal operations resume, effective immediately."
The group's demands have included defunding and abolishing the police, providing reparations for police brutality victims, and decriminalizing acts of protest, according to a CHOP website. (The area was previously also called Capitol Hill Autonomous Zone, or CHAZ.)
Durkan has attributed her order to empty the zone to violence in recent weeks. Best said in a statement that at least four shootings have occurred in the area, leaving two dead. The Chief also cited other "robberies, assaults, violence and countless property crimes" in the area.
"As I have said, and I will say again, I support peaceful demonstrations," Chief Best said in a statement. "Black Lives Matter, and I too want to help propel this movement toward meaningful change in our community. But enough is enough. "

Best added: "The CHOP has become lawless and brutal."
In early June, the protests in Seattle attracted President Trump's attention, and he clashed on Twitter with Durkan and Washington Gov. Jay Inslee after he demanded they intervene. Durkan replied: "Make us all safe. Go back to your bunker."
On June 23, Twitter flagged as abusive a tweet in which President Trump threatened "serious force" against any protesters who tried to set up an autonomous zone in Washington, D.C.